"I am coming to the end of a long journey..."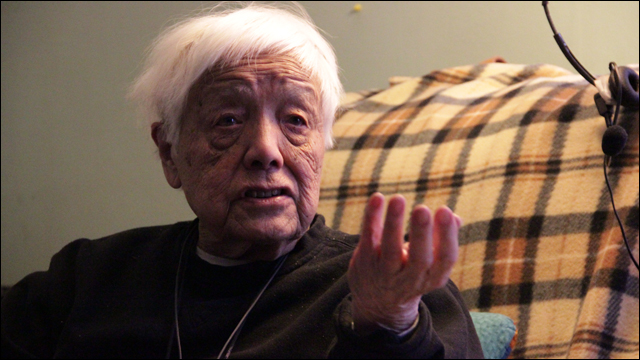 Word has passed along through various social media channels that legendary activist/philosopher/author Grace Lee Boggs, now 99 years old, is in ailing health and in hospice care. With over 75 years of work in the labor, civil rights and Black Power movements, she has lived an extraordinary life, upending and redefining our assumptions of what true revolution can be.
Grace has requested to share the following
statement
recorded recently at her bedside:
Statement from Grace Lee Boggs (9/23/14)

Grace has requested to share the following statement recorded recently at her bedside. Please respect her privacy, as she cannot entertain interviews, phone calls, or visitors. Thank you for the love and struggle you have shared with her.

"I am coming to the end of a long journey—a journey that began over 70 years ago at the beginning of World War II. This journey has basically been to show that there is an alternative to the Bolshevik revolutionary prototype. It has taken us a long time to accomplish this, but we have been able to do so both as a result of our historical vision and because of the very practical efforts of comrades who have risen to the challenge of creating a revolution unlike any revolution that has been in the past.

"Because of my increasing physical limitations in the last few years, I have not been able to play the role that I might have played. But that is not as important now as recognizing what has been achieved. A revolution that is based on the people exercising their creativity in the midst of devastation is one of the great historical contributions of humankind.

"We will be finding ways and means to celebrate this, one of which will be the Reimagining Work and Culture conference in October. We want people to understand how much this concept of new work and new culture is based upon not only enormous activity but also on vision and on imagination."

The
Reimagining Work and Culture Conference
is happening October 18-20 in Detroit.
You are in our thoughts, Grace Lee Boggs.