"Yes we use MSG!"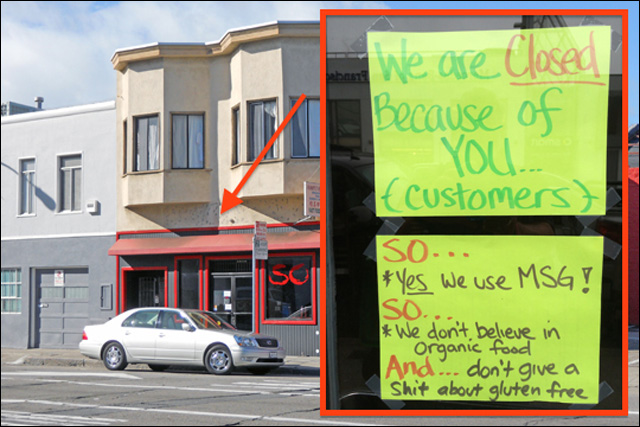 Restaurant-goers can be a fickle bunch. This week, one San Francisco chef apparently lost his shit after one too many rude customers. He closed up the restaurant early and posted signs in the window letting everyone know
"We are closed because of you (customers)"
and
"YES we use MSG!"
among other declarations.
Frustrated SO Owner Skewers Picky, MSG-Hating Customers via Window Sign
Just so everyone is clear, the Chinese restaurant
SO
uses MSG, doesn't believe in organic food and very much does not give a shit about gluten free. According to Eater, SO's owner walked out on Thursday after a customer cursed him out, and another party refused to pay their bill, claiming the food was "too spicy." The final straw.
We chatted with an employee at the restaurant, who says the walkout occurred after back-to-back incidents with rude customers: one party refused to pay their bill after deeming the food "too spicy," while another cursed at the owner. "He needed to cool off," says the employee of the owner. "He was frustrated and stressed out, and he's the cook, so we can't run the restaurant without him. We closed up early, and he put up the sign." The furious chef has apparently recovered his sangfroid: the employee says SO will be back in business today.

You gotta respect this restaurant's zero tolerance for bullshit.
Yelp reviews
in support of SO's "suck it, haters" attitude have already started rolling in. Makes me want to go there and chow on some black bean noodles.