"We can't enjoy the highs without the lows, right?"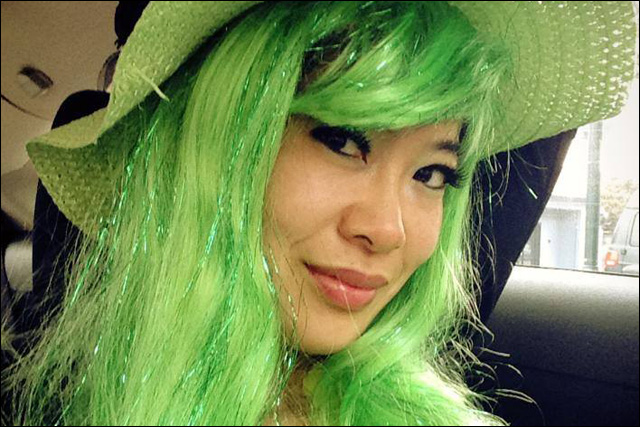 Hey, everybody! Happy Halloween. Put the candy aside for a second, because it's time to meet the
Angry Reader of the Week
, spotlighting you, the very special readers of this website. Over the years, I've been able to connect with a lot of cool folks, and this is a way of showing some appreciation and attention to the people who help make this blog what it is. This week's Angry Reader is Emily Wu Truong.
Who are you?
My full name is Emily Wu Truong. Wu is my Middle & Maiden name. Truong is my married last name. My name is Chinese characters is 吳怡萱. I am an American-born Taiwanese (ABT). My husband is Vietnam-born Chinese. Although I define myself as 2nd generation Taiwanese American, I also see myself as a compassionate human being where the world is my country, and everyone in it are my brothers and sisters.
What are you?
​I am a talented human being with many meaningful roles.
I was my own worst enemy, but now I'm my own best friend. =) Self endorsement & self-compassion matter.
I am a housewife with a wonderful supportive & loving husband. We take care of each other.
I am a Community Activist for Mental Health Awareness and Motivational Speaker, who has led seminars such as, "Believing in Me: My Journey to Finding My Self-Worth," "Coping with Bullying," "Addressing the Generation Disconnect," & "Experiences as a New Client in the Mental Health System."
I am a writer. With so many life experiences & stories to share, I have plans of becoming an author. In the mean time, I enjoy writing therapy as a social media addict and blogger of Happy Celebrations with MLE. The purpose of my blog is to address community concerns and being able to look at the good that comes out of events of adversity. I do believe there is good that comes out of unfortunate circumstances. For example, without Robin Williams' suicide, as tragic it was, good did come out of it. He did not die in vain because more people are talking about mental health than ever before.
​I serve as the newly-elected Chair of the Asian Coalition working with the Empowerment & Advocacy Division of LA County Department of Mental Health (LACDMH).
I have also been privileged to serve as the Chair of Programming for NAMI SGV (National Alliance on Mental Illness of San Gabriel Valley).
I also serve as a member of many different mental health committees, such as Congresswoman Grace Napolitano's Mental Health Consortium, LACDMH API Hope & Recovery Conference, LACDMH Service Area 3 API Working Group, LACDMH API Under-Represented Ethnic Populations (UREP), Korean Churches for Community Development (KCCD) Faith & Community Mental Health Collaborative, and so many more! I think I do too much sometimes, but I always remind myself to help me, help myself, to help everyone. Self-care is incredibly important! I attend all these meetings on my own volunteer time, but I attend them because I believe in civic engagement, & they make me feel like I have a voice, knowing that my voice does matter. The work I do is meaningful. =)
Where are you?
Physically, ​I grew up in the San Gabriel Valley (Service Area 3 of LA County), currently residing in Arcadia, CA. However, the headquarters of LACDMH in Koreatown (Service Area 4) is my 2nd home because of my work as Chair of the Asian Coalition.
Mentally, I can sometimes feel like a chicken running around with my head cut off. Haha! But because I believe in staying sane for my own mental well-being, I also need to remind myself to slow down, check in with myself, become aware of my own internal thoughts, and just breathe... I believe mental health is learning to stay sane in this insane world... to be in touch with our emotions and feelings and enJOY the roller coaster of life without being discouraged by the adversities. We can't enjoy the highs without the lows, right? But most of all, I enjoy my inner peace. =) This sense of inner peace is where I go to in the mist of all the drama of life where I tell myself, "It's okay, Emily. Everything's going to be all right because I'm here. We'll get through this together." x)
Where are you from?
​I was born in a small town in Southern Arkansas, ​El Dorado where my family was one of three Asian families. Then we moved over to San Marino​ ​when I was 7 years old just before I started 2nd grade. What a culture shock it was to go from a small town of mostly African Americans and Caucasians to the San Gabriel Valley where ​almost everyone is Asian! It was my first exposure to learning about earthquakes, materialism, racism, and competition for who could impress the Asian parents the most with their achievements. Growing up, there were very few people around me who wanted to talk about the meaning of life.
What do you do?
​I speak out to share my own personal story about living with loneliness, depression, and anxiety growing up. According to a recent mental health screener I took recently, I may be living with possibly have PTS (post traumatic stress). However, regardless of my diagnoses,​ ​I hope that by sharing my story, that others will come to not feel ashamed of their own weaknesses and vulnerabilities. We live in such a society where people have the need to be picture perfect. Well, in my world, the picture doesn't need to be perfect. There is no judgment. There is only compassion, and I only care to see real, authentic and genuine people.
This is what I tell people in the community to alleviate the stigma on mental health issues. Regardless of whether or not we've been diagnosed or not with a mental health condition, we're all made up of strengths & weaknesses. Our strengths will make us feel good about ourselves, boost our self confidence. Our weaknesses can make us feel bad about ourselves. However, when we are ready to face our fears, our weaknesses actually become opportunities for us to grow. When we challenges ourselves to confront our weaknesses & face the skeletons in our closets, we empower ourselves to become better than we already are. One quote out (I love quotes and positive affirmations!) there is "Once you've accepted your flaws, no one can use them against you." Wow!
What are you all about?
​Everyone knows me for my #MentalHealth awareness cause! =P I am known for being the "Lady in Green"! Because if Lady Gaga can be a fashion statement, so can I! I want to bring awareness to community mental health issues so that people who do need the help do not continue to suffer in silence. xD ​
​As an activist,​ I am always trying to think of innovative & creative ways to break down the walls of stigma & ignorance on community mental health issues.
What makes you angry?
​Ignorance from those who continue to misunderstand and judge me can be so frustrating, especially when they don't even try to get to know me personally. However, I know that I can't make everyone happy, and not everyone is my audience. Most of all though, my sanity is more important than me being right. So I constantly remind myself that... even though my external realities do not match up with my ideals, I am modeling the change I want to see in the world. Although I am only one person part of the Mental Health Movement called
Each Mind ​Matters
, I know I am person who does make a difference. As Martin Luther King Jr. said, "We must accept finite disappointment but never lose infinite hope."