Nina Pham officially declared virus-free, gets a hug from President Obama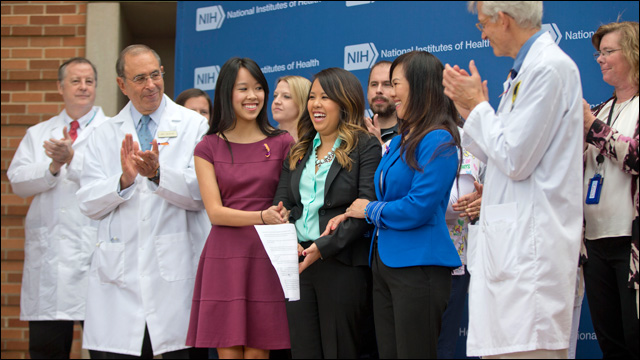 Nina Pham is going to be okay. Two weeks after she tested positive for Ebola, the Dallas nurse was declared virus-free and discharged from the Maryland hospital were she had been receiving care for the past week.
Nina Pham, Nurse Infected With Ebola, Is Now Virus-Free
26-year-old Pham, the first person known to
contract Ebola
within the United States, was infected while caring for patient Thomas Eric Duncan, who later died of the virus at Pham's hospital, Texas Health Presbyterian.
The National Institutes of Health in Bethesda, where Pham was placed in a special isolation care ward for infectious disease cases, announced Friday that she no longer tested positive for Ebola and was being discharged from the hospital with a clean bill of health.
Dr. Anthony S. Fauci, director of the National Institute of Allergy and Infectious Diseases, said health workers had administered multiple tests to Pham to determine that she no longer had the virus. Five consecutive polymerase chain reaction (PCR) tests came back negative, giving them confidence she is no longer infectious.

"She has no virus in her," said Fauci. "She's cured of Ebola, let's get that clear. That's for sure."

Speaking briefly in front of reporters at the NIH facility, Pham thanked both God and medical professionals for her recovery.

"I feel fortunate and blessed to be standing here today," she said. "I know that it may be awhile before I have my strength back so with gratitude and respect ... I ask for my privacy and my family's privacy."

Officially Ebola-free. Need further confidence that she's cured? Look no further than the President of the United States. Shortly after being discharged from the hospital, Ms. Pham made a stop at the White House to meet President Obama, who gave her an official presidential hug in the Oval Office.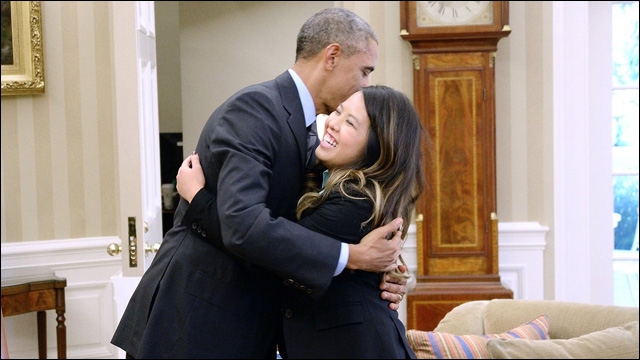 More here:
Nina Pham, Free of Ebola, Makes White House Detour on Way Home