ACLU attorney is the first South Asian American appointed to lead the division.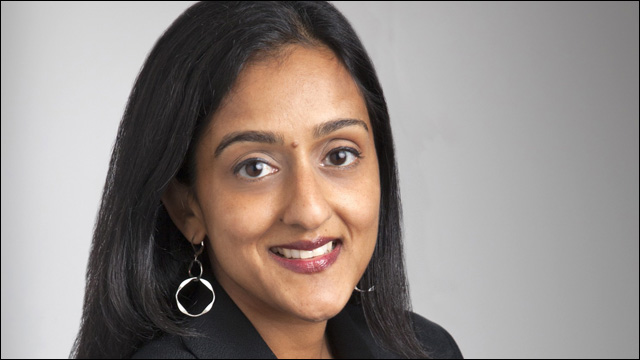 On Wednesday, Attorney General Eric H. Holder appointed top civil rights lawyer Vanita Gupta to the position of Principal Deputy Assistant Attorney General and Acting Assistant Attorney General for the Civil Rights Division.
New DOJ Civil Rights Chief Vanita Gupta Known For 'Trailblazing' Work
Gupta, currently Deputy Legal Director of the American Civil Liberties Union and Director of its Center for Justice, will take over next week as acting head of the Justice Department's Civil Rights Division.
Also, according to a White House official, President Obama is expected to nominate Gupta to be the permanent assistant attorney general for civil rights, a division that oversees voting rights and civil rights investigations, and has been without fixed leadership for more than a year.
Gupta will be the first South Asian American lawyer appointed to lead the division. Here's more on her background, according to the
ACLU's press release
:
Gupta currently directs the ACLU's National Campaign to End Mass Incarceration, and has been instrumental in the significant bipartisan progress achieved in that movement in recent years. She also leads the ACLU's involvement in Clemency Project 2014, and is intimately involved in its federal and state policing, sentencing, and drug policy and criminal law reform initiatives across multiple states.

In addition to having litigated landmark racial justice and criminal justice cases, Gupta has been involved in matters covering a broad range of civil rights issue areas, including education and disability rights. She oversees the project that ended HIV-segregation in Alabama and South Carolina prisons, and has also played a leading role in the ACLU's response in Ferguson, Mo., working closely with the ACLU of Missouri and community groups, as well as at the federal level, in seeking reform.

Prior to joining the ACLU, Gupta spent five years at the NAACP Legal Defense Fund, where she handled many civil rights matters. Her work included representing dozens of men and women in Tulia, Texas, who were imprisoned for low-level drug charges and ultimately pardoned by Texas Gov. Rick Perry.

More here:
Obama to nominate ACLU lawyer to lead Justice Department's civil rights division