Jeff Chang's forthcoming book on race and America hits stores October 21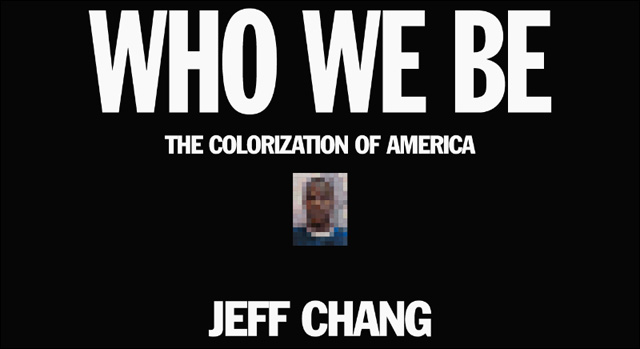 Heads up. One of the books you should be looking forward to this fall is Jeff Chang's
Who We Be: The Colorization of America
, due out on shelves October 21. It's about race, how we see race, and how that has and has not changed over the past half century. I've got my advance reader's copy, and it's damn good.
Race. A four-letter word. The greatest social divide in American life, a half-century ago and today. How do Americans see race now? How has that changed-and not changed-over the half-century? After eras framed by words like "multicultural" and "post-racial," and do we see each other any more clearly?

Who We Be -- Jeff Chang's follow-up to the award-winning classic Can't Stop Won't Stop: A History of the Hip-Hop Generation -- remixes comic strips and contemporary art, campus protests and corporate marketing campaigns, Martin Luther King, Jr. and Trayvon Martin into a powerful, unusual, and timely cultural history of the idea of racial progress. Jeff Chang brings fresh energy, style, and sweep to the essential American story. And, with continued headlines about race in the media every day after the recent shooting in Ferguson, Missouri, this timely book is essential reading for every American.

I anticipate this book will be required reading for any student of race, culture and media.
To celebrate the release, Jeff has announced the official 2014 dates for the
Who We Be
book tour, including a
pre-launch event
next week at NYU with Artist-in-Residence Hari Kondabolu. Here's the schedule:

10/15 New York, NY
A Warm-Up Event: Hanging with Hari Kondabolu!
NYU A/P/A Studies

10/21 Berkeley, CA
Official Pub Day Event!
Pegasus Books Downtown

10/23 Stanford, CA
Stanford University Book Talk
Institute for Diversity in the Arts + African & African American Studies

10/23 San Jose, CA
MACLA
"We Are The Majority!" CultureStr/ke Art Party
Feat. Julio Salgado, Yahaira Carillo, and SCAPE Martinez

10/24 Berkeley, CA
Uncharted! Berkeley Ideas Festival
Go To This F**kin' Talk w/Adam Mansbach
Berkeley Rep Theatre

10/28 New York, NY A
Asian American Writers Workshop
Nuyorican Cafe
Countercultures! feat. Jessica Hagedorn, Ayesha Siddiqi, Hank Willis Thomas, Jay Smooth, Vijay Prashad, and Sonia Guinansaca

11/5 Los Angeles, CA
UCLA Asian American Studies Center
Book talk & Signing

11/6 Los Angeles, CA
Loyola Marymount
Book talk
Location + Links TBA

11/8 Los Angeles, CA
American Studies Association
Panels & booksigning
Westin Bonaventure
Details TBA

11/10 Oakland, CA
Benefit for KPFA+Pacifica Radio w/Davey D
First Congregational Church, Oakland

11/11 San Francisco, CA
Benefit for Asian Americans for Civil Rights & Equality & Hyphen Magazine
Location + Links TBA

11/14 Dallas, TX
Facing Race Conference
Hilton Anatole
Details TBA

11/17 Philadelphia, PA
Swarthmore College talk
Location + Links TBA

11/18 Philadelphia, PA
Philadelphia Asian American Film Festival
Location + Links TBA

11/19 Boston, MA
Boston College
Lowell Humanities Lecture

11/20 Williamstown, MA
Williams College
Davis Center Lecture

11/22 Miami, FL
Miami Book Fair
A Panel on James Baldwin
More Details TBA

12/3 Berkeley, CA
University of California at Berkeley
African American Studies
More info TBA

1/20/15 Los Angeles, CA
Los Angeles Public Library ALOUD series
With Justin Simien and Erin Aubry Kaplan


Mark your calendars and make some plans. For further information about the book, visit
WhoWeBe.net
.