"I'm inspired by the arts, especially that which surprises, unnerves, and challenges."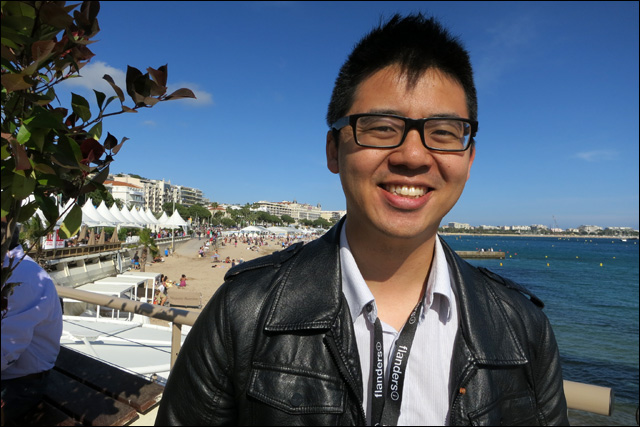 All right. You know what's up. It's time to meet the
Angry Reader of the Week
, spotlighting you, the very special readers of this website. Over the years, I've been able to connect with a lot of cool folks, and this is a way of showing some appreciation and attention to the people who help make this blog what it is. This week's Angry Reader is Brian Hu.
Who are you?
I'm Brian Hu.
What are you?
I'm a film scholar by training, but film festival programmer by trade. On top of that I'm a soul music lover, a Spurs fan, and a cinephile.
Where are you?
I live in San Diego, but you'll find me all over Southern California, usually in traffic on the 5 freeway.
Where are you from?
I hail from Cerritos, California, and arrived in San Diego with pit stops in Berkeley, LA, and Hong Kong.
What do you do?
I'm the Artistic Director of
Pacific Arts Movement
, which makes me head of programming at the San Diego Asian Film Festival. I also write and teach, usually on subjects related to Asian and Asian American media. No matter the work though it's all about introducing people to films that they normally wouldn't see or have an appreciation for. I want to encourage a deeper conversation about art, society, justice, and the industry.
What are you all about?
I'm inspired by the arts, especially that which surprises, unnerves, and challenges. In the US, sadly that includes everything with Asian faces. But I'm motivated by what I've seen thus far: that stories facilitate understanding and entertainment relaxes defenses. At the San Diego Asian Film Festival we give a platform to Asian American filmmakers -- especially ones taking major stylistic and thematic risks -- and we connect those filmmakers to audiences.
What makes you angry?
Parking tickets, but that's usually my own fault. I'm of course angered by ignorance and people who can't see their own racism and sexism. I'm angered by the west's scant attention to the atrocities they commit around the world. And as a film lover I can't stand when people say they just want to watch stupid movies, which is never actually the case.