26-year-old iOS developer Dan Ha had been missing since Halloween.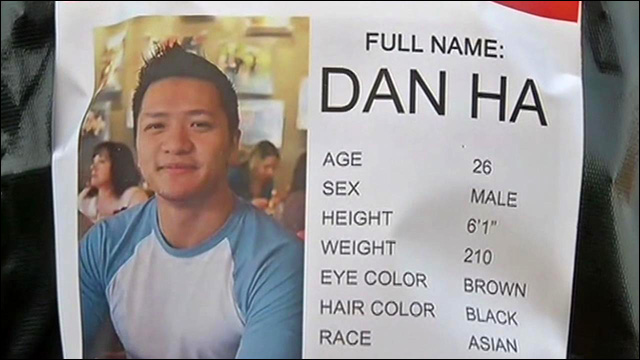 Some tragic news out of the Bay Area... The body of missing 26-year-old tech worker Dan Ha,
who had been missing
for nearly two weeks, was found in the San Francisco Bay on Tuesday morning.
Family of Missing San Francisco Tech Worker Says His Body Was Found in SF Bay
Ha's family confirmed that his body was identified by his clothing and identification found with him. They don't believe he committed suicide, but they have no other theories on how he ended up in the water.
Coast Guard and fire crews pulled the body from the bay on Tuesday morning after police responded to a report of a body in the water near the Golden Gate Bridge.
"In speaking with the medical examiner, while the face and body were indistinguishable, the clothes, wallet contents and phone matched Dan's personal belongings," Ha's younger brother Joseph Ha said at the press conference. "At this time, we believe the body is Dan's. We are still waiting to hear from SFPD for a full confirmation. We have no reason to believe that this was a suicide. Dan has never indicated having any intention of harming himself."

Joseph Ha said that his brother did not leave a note, had scheduled a doctor's appointment the morning of his disappearance and was scheduled to attend a work event the next day. He added that his brother had even kept a note on his desk about returning a shirt he had recently purchased.

Ha, an iOS developer at a local startup called Metromile, was last seen by his roommate leaving his apartment on Halloween night. His co-workers filed a missing persons report with police the following Wednesday.
Ha's family will be holding a memorial service for on Friday in San Francisco. The family is accepting donations to help offset the cost of funeral expenses which will be held in Washington. To donate, go
here
.
My deepest condolences to Dan Ha's family.
More here:
Dan Ha: Family Believes Missing Tech Worker Is Dead