Historic win makes him the first Cambodian American state legislator in the nation.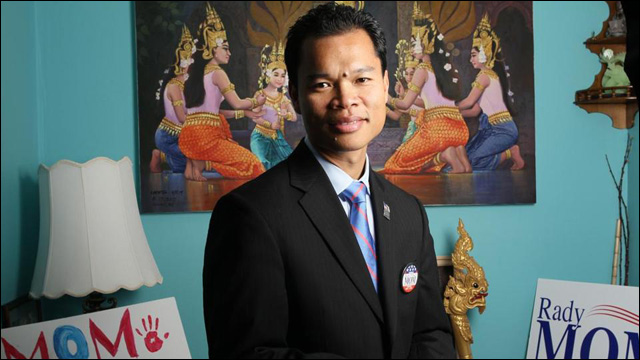 Some historic election news out of Massachusetts... On Tuesday in Lowell, Rady Mom was elected the city's newest state representative, and became the first Cambodian American state legislator in the nation.
Rady Mom makes history, becoming first Cambodian legislator by taking Lowell rep race
Mom, a 45-year-old accupressure therapist who moved to the United States from Cambodia at age 12, defeated Fred Bahou to claim the 18th Middlesex House District, winning more than 61 percent of the vote.
Mom received strong backing from Lowell's Cambodian American voters, and inspired community members to become more active in local politics:
Many in the city's Cambodian community have said they've been energized by his campaign, becoming more active in local politics than they would normally be.

Mom, who is soft-spoken, could barely be heard above the din of the room. He gave his victory speech shortly after 9 p.m.

"This is history. This is just the beginning," he said, but some still struggled to hear him.

"Speak up, representative. Speak up," new colleague, state Rep. Tom Golden of Lowell, yelled from one side of the room. The crowd erupted.

Lowell is home to the country's second largest Cambodian American population. Mom's victory makes him the city's first new representative in 15 years. Not bad for a kid who spoke zero English when he came to America. Here's hoping that he is the first of many political leaders stepping up from his community.
More here:
Cambodian-American Rady Mom's House win makes history