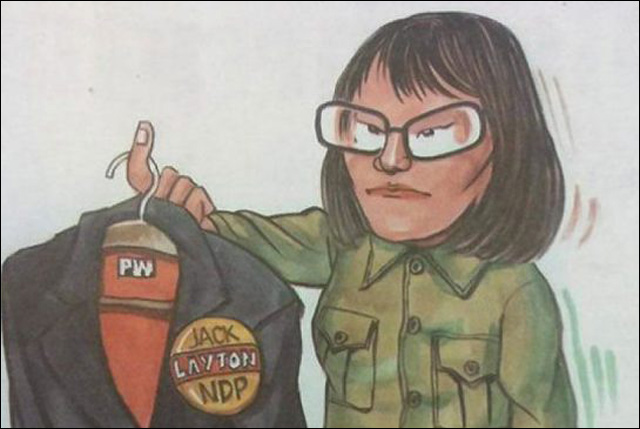 Where's the outrage over racist treatment of Olivia Chow
: This racist, sexist cartoon depicting Toronto mayoral candidate Olivia Chow -- dressed in a Mao suit, with slanted eyes, holding up the coattails of her deceased husband -- ran in the
Toronto Sun
just prior to the municipal election.
Police Investigating Ex-CBC Host Jian Ghomeshi In Sex Assault Case
: In case you haven't been following this (I haven't)... Police have begun an investigation of prominent former Canadian Broadcast Corp. radio host Jian Ghomeshi on sexual assault charges after three women filed complaints against him.
The Struggle Of Being Asian-American For Halloween
: Steve Haruch reflects on the yearly struggle many an Asian American kid had growing up: "...It was near impossible to choose a costume that was Asian-American, and just as hard to choose one that was Asian without perpetuating the kinds of stereotypes I spent the other 364 days a year trying to dispel."
I'm not "that creepy guy from the Internet": How Gamergate gave the geek community a bad name
: Arthur Chu has been that bitter, lonely gamer looking for someone to blame. And he's devastated that it's come to this.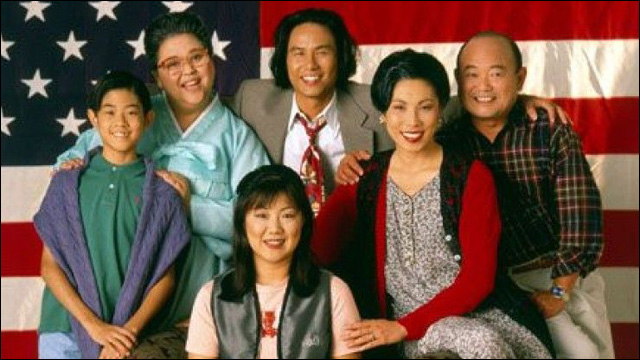 A Timeline Of Sitcoms Featuring Families Of Color
: NPR's Code Switch crowdsourced and compiled a sixty-year timeline of notable prime-time network television sitcoms featuring families of color.
Things People Say About Asian Parents'
: A Silicon Valley resident reminds parents: "We Asian Americans are not a monolithic group, and I don't subscribe to the kind of parenting philosophies made famous by Amy Chua."
What I learned in strip clubs
: The latest edition of CNN's
This Is Life with Lisa Ling
looks inside the world of four traveling strippers, who leave their homes in order to chase more profitable prospects. Lisa Ling writes about what she learned while producing this episode.
As Decades of Korean Adoptions Dwindle, Identity Issues Remain
: The United States first became an adoption terminus for Korean orphans at the end of the Korean War in 1953. Korean adoptions are now dwindling, but there are still lingering identity issues for adoptees.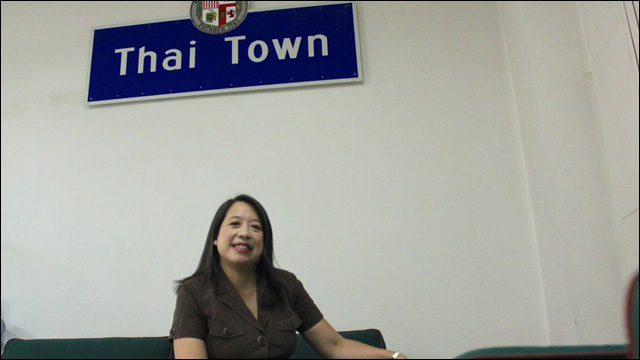 LA's Thai Town, only one in US, turns 15
: A look back at the history of Los Angeles' Thai Town, through the eyes of the staff at Ruen Pair, a small restaurant that's seen the neighborhood's development.
Who was Tuan Nguyen? Friends unravel mystery of homeless man killed in LA accident
: Officially, he is known as John Doe No. 278. Local residents knew him as Tuan Nguyen, a quiet and caring homeless man who came to the United States as a refugee from Vietnam.
The Willy Wonka of Sriracha: Behind the Gates of David Tran's Factory
: The chief of Huy Fong, maker of the one-and-only "Rooster Sauce," talks about his successes, his challenges, and his imitators.
GOP Woos Asian Voters in Swing Districts
: Asian American voters have swung heavily behind Democrats in the past two decades, and the GOP has been spending a great deal of energy and resources in an attempt change that.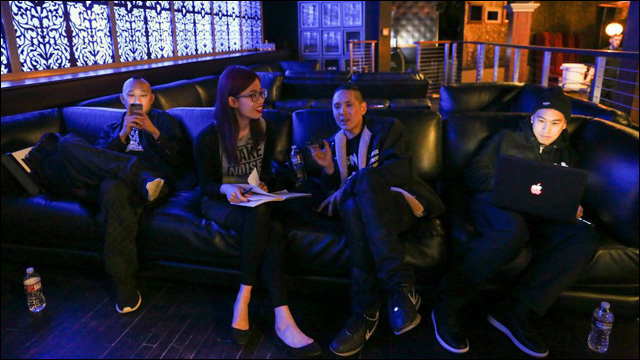 A Far East Movement Fangirl's Interview with Far East Movement
: Candace, a self-professed fangirl, got the opportunity to interview Far East Movement, who talked about going back to the drawing board with their sound, dealing with racism, and reppin' the Asian American community.
South Korea Exports Its Glow
: While the beauty market has long been led by European countries, next-gen skin care products and regiments from South Korea have started to catch on in the United States.
How Benu's Corey Lee Attained the 'Unattainable' Third Michelin Star
: Chef Corey Lee on earning his third Michelin star, the importance of writing a cookbook, and why he's not looking to leave the Bay Area anytime soon.
Elementary's Lucy Liu: 'Independent Women, Pt. 1' Was Never My Ringtone
: The star of CBS' Sherlock Holmes crime drama, which returned last week for its third season, talks dead bodies, diversity and Beyoncé.