Steve Byrne's cable comedy cancelled after three seasons.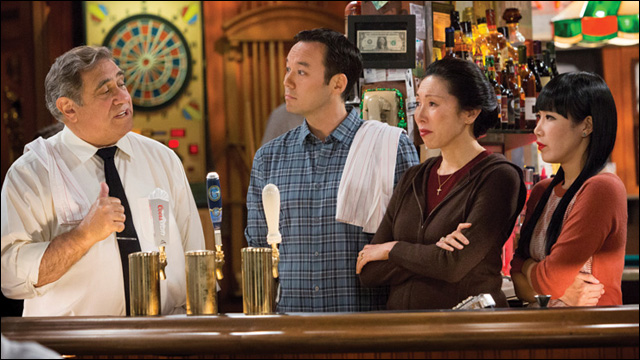 Dammit. I am truly disappointed to hear that the TBS comedy
Sullivan and Son
, starring Steve Byrne, has been canceled after three seasons. The network, overhauling its slate, has given the axe to the TV show that has been holding it down and never quite got the credit it deserved as the
other
Asian American family sitcom.
'Sullivan & Son' Cancelled By TBS After Three Seasons
The series, created by comedian Steve Byrne and showrunner Rob Long, was set in a neighborhood Pittsburgh bar full of colorful characters. Steve starred as a corporate attorney who gives it all up to return home and take over the family business. The multiracial cast included Jodi Long, Vivian Bang and Dan Lauria as Steve's mixed race Korean American family. And I actually really liked it.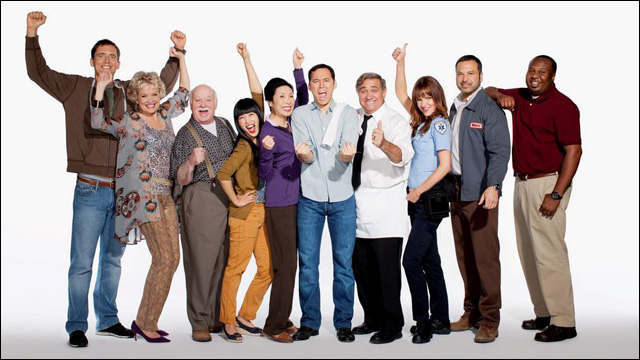 Sullivan and Son
wasn't the most inventive thing on TV -- by most standards, it was pretty conventional -- but I loved that it offered a different view of an Asian American television family, inspired Steve Byrne's own multiracial upbringing, presented in the trappings of a traditional three-camera sitcom filmed in front of a live studio audience. Honestly, how often do we get to see something like that? Nearly never.
With all the hype around the upcoming debut of
Fresh Off the Boat
, people might have overlooked the fact that Steve and the Sullivans had been holding it down on basic cable for three seasons. And in the last season, the show had really begun to find its chemistry and narrative stride.
Unfortunately, the show never managed to hang on to an audience. The most recent third season averaged 1.6 million viewers and a 0.6 rating in adults 18-49, down 21% and 26%, respectively, from season two.
Is it me, or does there seem to be an unspoken maximum number of Asians that can be allowed on TV at any given time? Just as the
Fresh Off the Boat
is about to hit the airwaves early next year,
Sullivan and Son
gets the axe, along with John Cho in
Selfie
. It's a bummer.
More here:
TBS' 'Sullivan & Son' Canceled