40,000 voters in Georgia have no idea if they'll be able to vote tomorrow.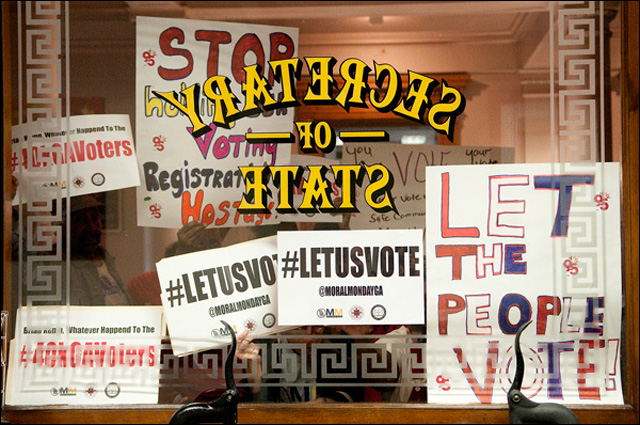 Got this passed along to me from our good friends at
18 Million Rising
... In Georgia, at least 40,000 people don't know if they'll be able to vote in tomorrow's election. Forty thousand new eligible voters haven't been added to the state's voter registration rolls, even though they turned in all their completed registration paperwork.
The majority of these 40,000 voters come from Asian, Black, and Latino communities.
Despite a lawsuit filed by national and local organizations against Georgia Secretary of State Brian Kemp to speed up the processing of these "missing" new voter registrations, Fulton County Superior Court Judge Christopher Brasher failed to intervene on behalf of these voters.
It's being called
"The Most Brazen Attempt at Voter Suppression Yet."
Last week, 18MR launched a
petition
demanding that the Department of Justice investigate Secretary of State Kemp's inaction, and to hold him and the state of Georgia accountable for these missing voter registrations. Today, with less than 24 hours until the polls open, let's turn up the pressure on the Department of Justice.
Are you active on Twitter? Here's 18MR's call to action: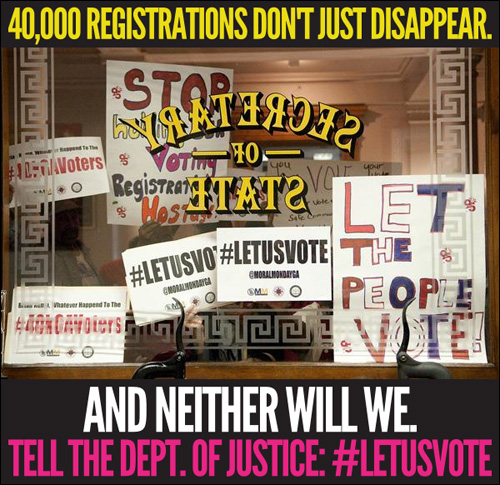 Join us right now on Twitter to fight for 40,000 voters whose voices may never be heard at the polls: Tell the DOJ to #LetUsVote!

You can quickly and immediately send a message to the DOJ by simply clicking one of these messages to tweet it:

Hey @CivilRights: you're already here, just make a move. @GASOSKemp won't act. Will you? http://bit.ly/letGAvote #LetUsVote

Will you let @GASOSKemp's voter suppression slide @CivilRights? It's time for more than an investigation. #LetUsVote http://bit.ly/letGAvote

#40kGAVoters are depending on you, @CivilRights. Do more than investigate. Act. #LetUsVote http://bit.ly/letGAvote

We must use our power to fight racially-motivated voter suppression, voter intimidation, and the heavy hands of those who believe they can win on election day by silencing our voices.

Urgent action is needed now, and we cannot afford to be silent.

There is no way around it: these 40,000 "missing" voter registrations are part of racially-biased vote suppression. To learn more, and to sign the online petition to the Department of Justice, head over to 18 Million Rising:
Tell the DoJ: Protect Our Right to Vote
.