Family and community members demand justice for the attack on 64-year-old Sao Lue Vang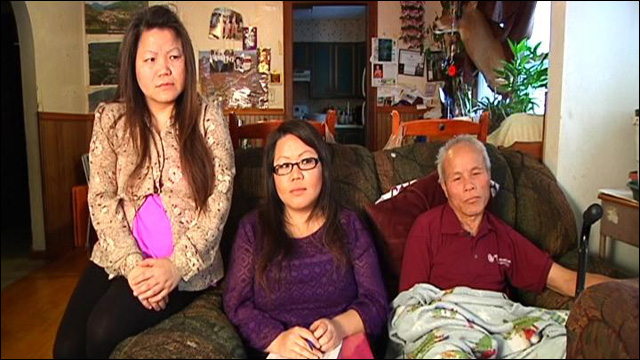 Last month in Wisconsin, a Hmong hunter was severely injured after he accidentally wandered on to private land and was assaulted by the son of the property owner. The victim's family and members of the Hmong American community are demanding answers for the vicious attack on 64-year-old Sao Lue Vang.
Family speaks out about Hmong hunter assault
Vang was hunting with friends on public land in Pepin County. At some point, Vang separated from the group and was approached by another hunter, 43-year-old Kevin Elberg, who started harassing, yelling, and accusing him of being on his property. Vang apologized, but the confrontation escalated.
When Vang tried to walk away, Elberg allegedly assaulted him from behind, knocking him to the ground, and kicking and hitting him in the stomach and body. Vang suffered lacerations to his liver and injuries to his hand.
Here's more information on what happened:
On Wednesday afternoon, November 5, 2014, just as he has been doing for 19 years, Sao Lue Vang and two friends went hunting on public land in Pepin County, WI. A little over an hour upon arriving, while in the deep woods, Sao was approached by another hunter, later identified by Pepin County Sheriff as Kevin Elberg from Pepin, WI. According to Sao, Elberg started harassing, yelling, and accusing Sao for being on his property. Although Sao's english speaking abilities are limited, he was able to understand what Elberg was saying. He politely apologized to Elberg for the misunderstanding. To which Elberg replied, "I don't care". The confrontation escalated. Fearing that Elberg would harm him, Sao radioed his hunting party and proceeded to walk away from Elberg. Sao is 5'3, 117 lbs. Elberg appeared to be in his early 40's, over 6 feet tall and weigh around 180 lbs. (the Leader Telegram newspaper later confirmed that Elberg had military background). Suddenly, from behind, Elberg struck Sao with enough force to knock him onto the ground. Elberg wrestled Sao for his walkie talkie while Sao continued to cry out for help. While on the ground and helpless, Sao was kicked and struck several more times in the stomach and body. Elberg then grabbed Sao's rifle and struck him with it, causing lacerations and bleeding to his left hand. Sao pleaded for his life and continued to yell for help. Elberg put his hands over Sao's mouth, causing him to gasp for air. Shortly after, Sao was unable to breathe and became unconscious.

A while later when Sao regained consciousness, he saw that Elberg had dragged him about 50 yards from the initial location of the encounter. He was now lying in the middle of the corn fields with Elberg's boot pressed down on his stomach. Sao was experiencing excruciating pain, particularly in his abdomen. Sao cried for help again and Elberg continued to put his hands over his mouth to silence him. Shortly after, a woman, who was later identified as Elberg's mother, drove up to them in a pick-up truck. Elberg's mother helped Sao onto the bed of the truck. Elberg then drove Sao out to the main road and where they met up with a law enforcement agent, as well as Elberg's father and the other members of Sao's hunting party. Sao was taken to a hospital in Wabasha and then later transported to Mayo Hospital where he was treated for his injuries. He suffered grade 4 liver lacerations and a left hand injury requiring multiple stitches. He was discharged on Friday, November 7, 2014. Due to his injuries, he has been bed ridden ever since and now requires a wheelchair for mobility.

According to the Pepin County Sheriff's Office, Elberg was arrested three days after the incident and then released without bond at the request of the district attorney. He has not yet been charged.
Family and community members have posted a
petition
calling on the Pepin County District Attorney and Sheriff's Department for justice in the response to the attack on Sao Lue Vang.
More here:
Bring justice to Sao Lue Vang, his Family, Friends and Loved Ones.