Telling the untold stories in the making of America.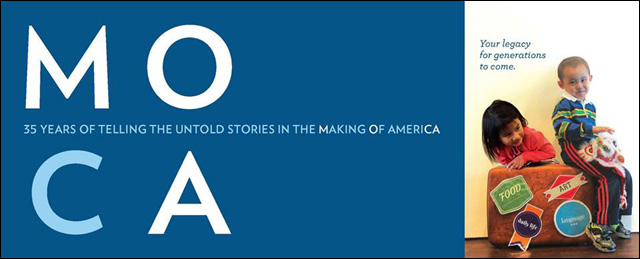 Looking for a worthy cause to donate some holiday cash? Throughout the month of December, I'll try to spotlight projects, causes and organizations that could use support through your generous giving.
Help tell the untold stories in the making of America.
Donate
to the Museum of Chinese in America (MOCA), which is committed to reclaiming, preserving and presenting the history of Chinese people in the United States. Your generous gift will go towards the Museum's current institutional expansion, which will create greater opportunities for MOCA to offer increased programming, to serve a broader audience, and to develop as the national Chinese American museum.
Here are some of the Museum's highlight's from the past year:
Founded in 1980 in Manhattan's Chinatown, MOCA is dedicated to preserving and presenting the history, heritage, culture and diverse experiences of people of Chinese descent in the United States. The greatly expanded museum at 215 Centre Street, which opened in 2009, is a national home for the precious narratives of diverse Chinese American communities, and strives to be a model among interactive museums.
The Museum promotes dialogue and understanding among people of all cultural backgrounds, bringing 160 years of Chinese American history to vivid life through its innovative exhibitions, educational and cultural programs. MOCA welcomes diverse visitors and participants to its broad array of exhibits and programs.
Your tax-deductible
donation
to MOCA's general operating budget will help to maintain the wide array of exhibitions, educational and public programs, and community initiatives that allow MOCA to fulfill its important mission. To make an online donation, go
here
. To learn more about the museum's exhibitions and programs, visit the
MOCA website
.