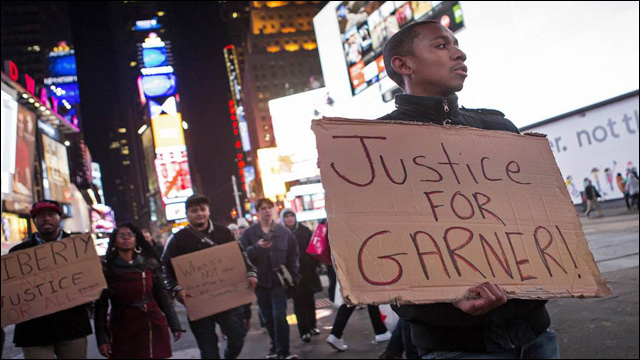 Eric Garner Case Resonates Among Asian Americans
: After a Staten Island grand jury decided to not indict police officer Daniel Pantaleo in the choke-hold death of Eric Garner, Asian American activists and academics have been issuing calls for shows of solidarity for the family and community of Garner, as well as imploring Asian America to better understand the connections it has with other communities of color.
Ferguson Solidarity Protests: "No Justice No Peace" at Malls and Subways
" Activist and writer Deepa Iyer writes about the nationwide solidarity protests in the aftermath of the grand jury's decision not to indict Darren Wilson in the fatal shooting of Michael Brown in Ferguson, Missouri.
Meet the woman spearheading the federal probe of Ferguson
: Trailblazing attorney Vanita Gupta is set to play a major role in how the Justice Department proceeds in its ongoing federal investigation into the events surrounding the shooting of Michael Brown in Ferguson, Missouri last August.
How to Raise Racist Kids
: Here's a quick, two-step method for raising racist kids. Step One: Don't talk about race. Don't point out skin color. Be "color blind." Step Two: Actually, that's it. There is no Step Two.
There Are Racists on My Facebook
: Got racist people in your Facebook feed? Here's a newly launched Tumblr site born out of recent social media frustrations. Surely, you can relate.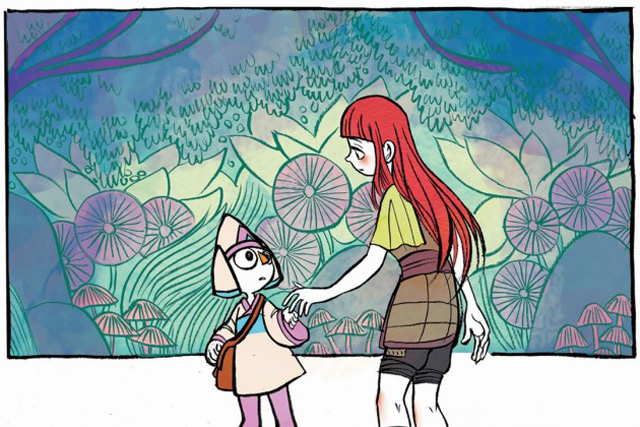 'In Real Life' Artist Jen Wang On Color, Creativity, And Building A World [Interview]
: An interview with artist Jen Wang, whose latest comic
In Real Life
explores how one protagonist attempts to escape reality -- only to find that fantasy can be an extension of "real life."
New York's Chinatown in the Early 1980s
: In the early 80s, photographer Blud Glick documented the lives of New York's Chinatown residents, during a time when a new influx of immigrants began replaxing an older Chinatown generation. The project is now part of the Museum of Chinese in America.
Why I Support An Ethnic Studies High School Graduation Requirement in LAUSD and SFUSD...And Beyond
: Cynthia Liu writes about growing up in a town with only five Asian American families, and the importance of the new ethnic studies requirement in Los Angeles and San Francisco's school districts.
Growing Up Chinese and Rich in the San Gabriel Valley
: When Clarissa Wei meets to tutor a recently-immigrated child from China, she remembers her own childhood and the complications of growing up Chinese and affluent in the San Gabriel Valley.
Hmong New Year When Grandma Was Alive
: Kao Kalia Yang remembers Hmong New Year with her grandmother, as part of CAAM/KQED's
Off the Menu: Asian America
multimedia project.
Jackie Chan - How to Do Action Comedy
: Some filmmakers can do action. Others can do comedy. But for 40 years, the master of combining them has been Jackie Chan. This is an excellent video essay by Every Frame a Painting on why Jackie Chan is, hands down, the master of action comedy.
The Interview's Randall Park on How Vice Prepared Him to Play Kim Jong-Un
: A few questions with actor Randall Park, who plays North Korean dictator Kim Jong-Un in the upcoming comedy
The Interview
.
What Are You Up to Now? Checking in with Dante Basco, a.k.a. Rufio from "Hook"
: Ever thought, "What ever happened to that guy Rufio from
Hook
?" Here's an update on actor Dante Basco's life.
Roy Choi's Master Plan
: The Kogi taco launched the food-truck movement and made chef Roy Choi a celebrity. Now he wants to bring together rich and poor, fast food and healthy fare, young Americans and their immigrant parents. It's all, he says, about "slinging love."
Kogi BBQ Is Hot and Ready at LAX Terminal 4
: For those traveling to Los Angeles in search of the taco that started a food truck revolution, you don't have to look further than Terminal 4 at LAX.
Dumbfoundead and the Year of the Metal Tiger
: In the fourth series of essays about his inspirations, rapper and co-founder of Low End Theory James "Nocando" McCall writes about meeting Dumbfoundead.