View the unaired episodes of ABC's cancelled romantic comedy starring John Cho and Karen Gillan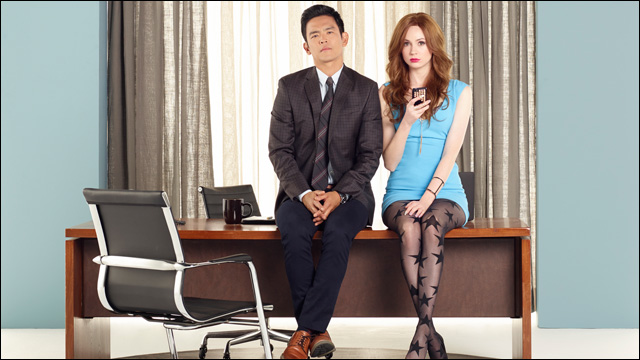 If you were bummed about ABC's premature cancellation of
Selfie
after just seven episodes -- whether you're a fan or simply never got around to watching it -- you'll be happy to know that the remaining six unaired episodes of the show, starring John Cho and Karen Gillan, will be available for streaming on
Hulu
.
While the seventh episode of
Selfie
was the last to hit airwaves on November 11, the romantic comedy's remaining six episodes will be released once a week on Hulu, Hulu Plus and ABC.com through the end of the year. Episode 8 was released last week, while episode 9 is currently available exclusively to Hulu Plus subscribers. You can catch up on the last couple of episodes
here
.
Unofficially? All remaining episodes of #SelfieABC will soon be on Hulu, Hulu Plus & http://t.co/gnNYZlYFqw Hugs to Peter Roth @warnerbrostv

— Emily Kapnek (@EmilyKapnek) November 20, 2014
In
Selfie
, Karen Gillan stars as "Instafamous" Eliza Dooley, who has 263,000 followers hanging on to her every post, tweet and selfie. But one lonely day, she has a revelation: being friended is not the same as having actual friends. John Cho stars as marketing guru Henry, who she asks to help rebrand her self-obsessed reputation and teach her how to connect with people in the real world.
The show had a bit of a rocky start, not to mention a terrible title, but I'd argue that it really began to find its creative stride after a couple of episodes, and the chemistry between its two leads was ridiculously charming. Unfortunately,
Selfie
couldn't hold it down in the ratings, and ABC gave it the axe. At least now, the show goes out with a proper goodbye.
Here are the episodes currently available on Hulu:










So long to Selfie, the only network television show starring an Asian American male lead, for a moment.

UPDATE: For super Selfie-devoted, there is a petition calling for the show to be un-canceled, and it's picking up a considerable amount of steam: Please renew "Selfie" for a second season.