Call to urge your senators today to confirm Dr. Murthy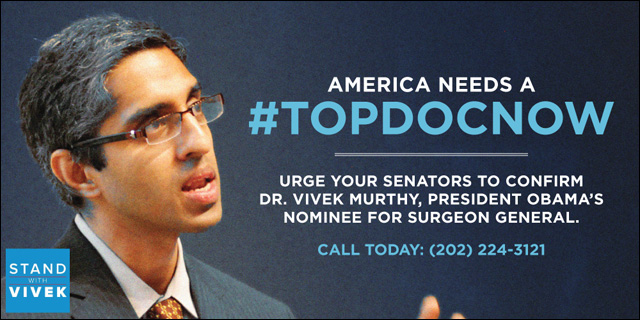 Senate Democrats are using their lame-duck majority in a last-ditch attempt to finally push through President Obama's pick for the next surgeon general. Over the weekend, the Senate voted 52-40 to bring the nomination of Dr. Vivek Murthy to a formal confirmation vote on Monday at 5:30pm before they adjourn for the holidays.
US Senate to vote for Vivek Murthy as surgeon general before Democrats cede control
President Obama nominated Dr. Murthy, a highly qualified and experienced medical professional, to the post of U.S. Surgeon General over a year ago. While his credentials make him a no-brainer for the job, Dr. Murthy's confirmation has been stalled by the usual partisan politics -- particularly over his stance on gun violence.
Dr. Murthy will have no chance of getting a vote once Republicans take control of the Senate in January. So it's now or never -- time is running out. Here's how you can take action right now:
call your senators
.
THE TIME IS NOW TO CALL YOUR SENATORS

The Senate has scheduled Dr. Murthy's vote for Monday, December 15, 2014 at 5:30pm. Tell your Senators to stay in D.C. and see the vote through. Time is running out and the Senate must confirm Dr. Murthy before the new Congress reconvenes in January.

This tool makes it easy to call by finding the phone numbers- just enter your zip code.

When a staff member answers the phone, tell them:

- Your name and the city where you live
- It is important that the Senate stay and votes to confirm Dr. Vivek Murthy for Surgeon General before it adjourns for the holidays. In this time of public health challenges, Dr. Murthy is the well-qualified public health leader the country needs.
- Ask: "Can I count on the Senator to vote to confirm Dr. Murthy for Surgeon General?"

Remember: Be polite but firm. You are a constituent, and it is your responsibility to share your views with your elected officials!

The use the zip code tool
here
to look up the contact information for your senators. Make your voice heard! Call your senators today and urge them to vote to confirm Dr. Vivek Murthy for Surgeon General.
More here:
Stand With Vivek