Lawsuit alleges Cesar Ramirez referred to Asians as "shit people," purposely served them inferior cuts of meat.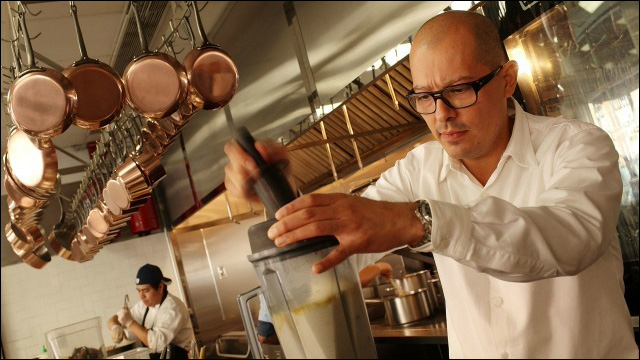 In New York, a lawsuit filed against an acclaimed Brooklyn chef alleges that he regularly discriminated against Asian customers, referring to them as "shit people," and purposely served them the inferior cuts of meat.
Chef at ritzy restaurant served the worst meat Asians: suit
César Ramirez of Chef's Table at Brooklyn Fare, a purportedly classy three-Michelin-star rated restaurant, is accused of openly prohibiting Asian customers from being placed too close to him at his section at the fusion French-Asian eatery, routinely referring to them as "shit people." He also dictated that Asians were to be served lesser scraps of meat, while preferred diners were given choice chunks.
According to a lawsuit filed by some of his former sous chefs and servers, Ramirez was blatant about his biases, and went out of his way to discriminate against Asian diners. I think calling anyone "shit people" makes it pretty clear how you feel about them.
"When a large piece of meat was cut into many pieces for the guests, Defendant Ramirez instructed Ms. Howard to give the worst pieces of meat to the 's- -t people,' i.e. Asian people, and to Upper West Siders," the suit states.

When an Asian patron was once placed close to Ramirez during one of his culinary cabarets, the chef boiled over with rage at Howard, who is Asian, the document states.

"On one occasion, Ms. Howard 'violated' Defendant Ramirez's discriminatory rule by seating Asian individuals close to his spot at the center of kitchen counter," the suit states.

"In response, Defendant Ramirez subjected Ms. Howard to a wild verbal tirade."

"Mr. Ramirez from then on took control of the seating, so that he could ensure that no Asians be sat next to his place."

The restaurant is also accused of cutting employees out of tips and withholding overtime pay. Customers were automatically charged a twenty percent gratuity for each bill, but servers never saw a dime of those tips. Employees were also never paid overtime, despite sometimes working more than seventy hours a week.
I don't care how good your food is, or how much money people are willing to pay to eat at your restaurant. It doesn't give you the right to treat people like shit. My fellow Asians, I know you love some good food, but Chef Racist Ramirez clearly doesn't want you to eat it. He doesn't even want you eating near him.
Even If I had three hundred bucks to drop on dinner, I definitely won't be spending it here. Looks like other people feel the same way -- Chef's Table's
Yelp page
is currently blowing up in all the wrong ways.
More here:
Michelin-Starred Chef's Table at Brooklyn Fare Hit With Class Action Suit Alleging Wage Theft, Racism [UPDATED]