Feature documentary raising post-production funds.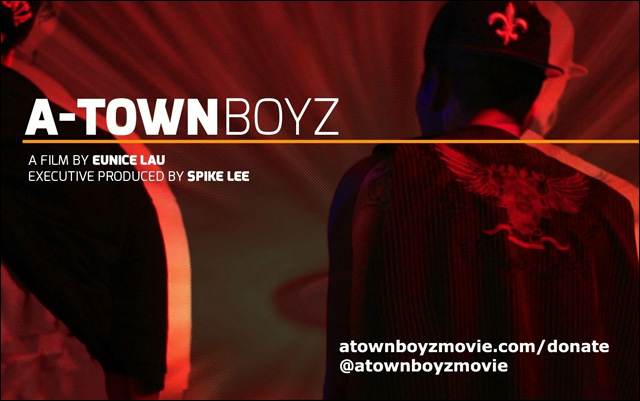 Here's an interesting film project that could use your crowdfunding help...
A-Town Boyz
, directed by Eunice Lau, is a feature documentary about the lure of gang life for Asian American men in Atlanta. Capturing a diversity of immigrant experiences, the film challenges the model minority myth, revealing the problems they face as first and second-generation immigrants, such as poverty, discrimination and invisibility.
Four years in the making,
A-Town Boyz
counts none other than executive producer Spike Lee as one of its supporters. The project is making its crawl towards the finish line, and is
raising funds
to lock down a final cut, enter the film festival circuit and eventually get the documentary out there for people to see.
Watch this
video
for more information about the film:
Here's a trailer:




And here's an exclusive teaser clip from the film:




Here's some more information about the film:


A-Town Boyz is about the growing up experiences of Asian-American men in Atlanta, GA, who, in their youth, turned to gangs for survival, kinship and identity. With unprecedented access, the film offers a rare insight into the lives of Asian immigrants who do not fit the model minority image, but instead grapple with issues of assimilation, racism and masculinity.

Guiding the story are the first-hand accounts of three young men each at a crossroad, eager to break free of the underworld but struggling to find a way out. In documenting their lives, the film offers a window into the underground Asian gang culture of Atlanta, as well as the cultural, economic, and political barriers most immigrants face. Award-winning director Eunice Lau (Through the Fire) says, "A-Town Boyz gives voice to the silent majority of the Asian community who came to Atlanta in search of the American Dream. Our documentary highlights the issues which make gang life attractive to many youths."

By showing the diverse demographics of the South, A-Town Boyz challenges the pervasive and often reductive stereotypes in mainstream media of Asian-American men as desexualized nerds. In so doing, the film paints a nuanced portrait of this diverse and often misrepresented community.

The film is currently in the throes of post-production, and your tax-deductible donation through Women Make Movies will help pay for editing, composition of an original soundtrack, and a return trip to Atlanta to conduct final pick-up interviews. The goal is to raise $50,000 by the next 12 days. Can you help make it happen?
This sounds like a really interesting, important film. To make a donation, visit the
campaign site
. For further information about film, visit the
A-Town Boyz website
and follow updates on
Facebook
and
Twitter
.