Nearly three dozen home invasions across 13 North Carolina counties since December 2013.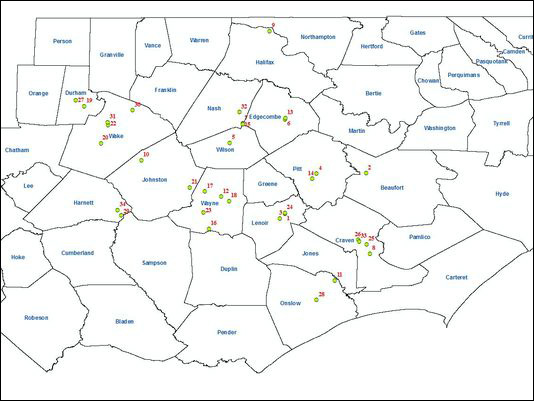 In North Carolina, authorities are asking for the public's help in solving nearly three dozen violent home invasion robberies that have targeted Asian restaurant owners across thirteen counties in the last year.
String of home invasion armed robberies of Asian restaurant owners prompts appeal to public for tips
According to the North Carolina Department of Public Safety, there have been 35 home invasions targeting Asian restaurant owners since December 2013. All of the robberies have followed a similar pattern. In each incident, three to five armed men, faces covered, attack the owners and their families after they arrive home late at night from the restaurant, then rob the victims of their cash.
Since December of 2013, 35 armed home invasions have occurred with the same mode of operation. The assailants surprise the owners and their families when they arrive home from the restaurant in the late evening. Three to five armed black males, with their faces covered, attack the victims from behind and assault them until they cooperate. In all cases, cash was the primary item stolen from the victims. Areas affected are: Wayne County (5), Nash/Edgecombe (5), Wake County (4), Craven County (4), Lenoir County (3), Durham County (2), Johnston County (2), Harnett County (2), Onslow County (2), Pitt County (2), Beaufort County (1), Jones County (1), and Wilson County (1).

The latest armed robbery occurred on December 23, 2014 in Wake Forest.
Investigators are offering an $8,000 reward for information leading to the arrest and conviction of those responsible for the robberies. Anyone with information is asked to call the tip line at 1-800-276-4533.
More here:
35 NC Asian restaurant owners targeted in home invasions