Asian Pacific Filmmakers Reception, Sunday January 25 in Park City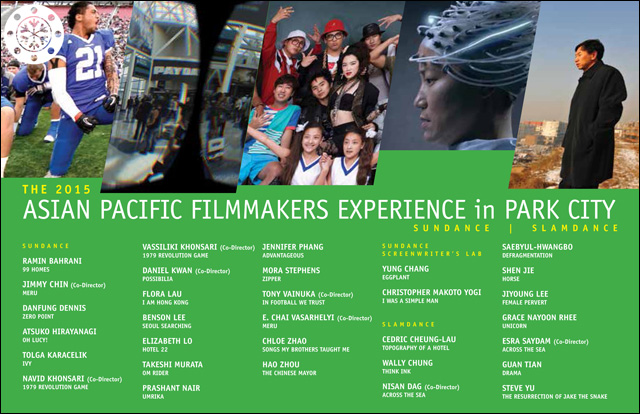 If you are one of the bundled up cinephiles making the snowy trek to Park City, Utah for the 2015 Sundance Film Festival, you might be interested to know that there is some serious AAPI representation in the programming this year, at both Sundance and the rival upstart festival Slamdance.
Whether you're a filmmaker or film supporter, come help celebrate at the 11th Annual Asian Pacific Filmmakers Reception, happening Sunday, January 25 at Club 301 - The Funn Networks Space in Park City.
Here are some more details about the reception:
ASIAN PACIFIC FILMMAKERS RECEPTION PARK CITY 2015

SUNDAY, JANUARY 25, 2015
3PM - 5PM

CLUB 301 - THE FUNN NETWORKS SPACE
301 MAIN STREET
PARK CITY, UTAH

RSVP: DIRECTLY AT
ASIANPACIFICFILM@GMAIL.COM

OR BY CLICKING THE LINK BELOW
ASIANPACIFICFILMPARKCITY


COME CELEBRATE OUR FILMS AND OUR FILMMAKERS FEATURING:


SUNDANCE

RAMIN BAHRANI - 99 HOMES

JIMMY CHIN (Co-Director) - MERU

DANFUNG DENNIS - ZERO POINT

ATSUKO HIRAYANAGI - OH LUCY!

TOLGA KARACELIK - IVY

NAVID KHONSARI (Co-Director) - 1979 REVOLUTION GAME

VASSILIKI KHONSARI (Co-Director) - 1979 REVOLUTION GAME

DANIEL KWAN (Co-Director) - POSSIBILIA

FLORA LAU - I AM HONG KONG

BENSON LEE - SEOUL SEARCHING

ELIZABETH LO - HOTEL 22

TAKESHI MURATA - OM RIDER

PRASHANT NAIR - UMRIKA

JENNIFER PHANG - ADVANTAGEOUS

MORA STEPHENS - ZIPPER

TONY VAINUKU (Co-Director) - IN FOOTBALL WE TRUST

E. CHAI VASARHELYI (Co-Director) - MERU

CHLOE ZHAO - SONGS MY BROTHERS TAUGHT ME

HAO ZHOU - CHINESE MAYOR, THE (PRC)

Sundance Screenwriters' Lab

YUNG CHANG - EGGPLANT

CHRISTOPHER MAKOTO YOGI - I WAS A SIMPLE MAN


SLAMDANCE

CEDRIC CHEUNG-LAU - TOPOGRAPHY OF A HOTEL

WALLY CHUNG - THINK INK

NISAN DAG (Co-Director) - ACROSS THE SEA

SAEBYUL-HWANGBO - DEFRAGMENTATION

SHEN JIE - HORSE

JIYOUNG LEE - FEMALE PERVERT

GRACE NAYOON RHEE - UNICORN

ESRA SAYDAM (Co-Director) - ACROSS THE SEA

GUAN TIAN - DRAMA

STEVE YU - THE RESURRECTION OF JAKE THE SNAKE

To RSVP, email ASIANPACIFICFILM@GMAIL.COM or fill out the form
here
.