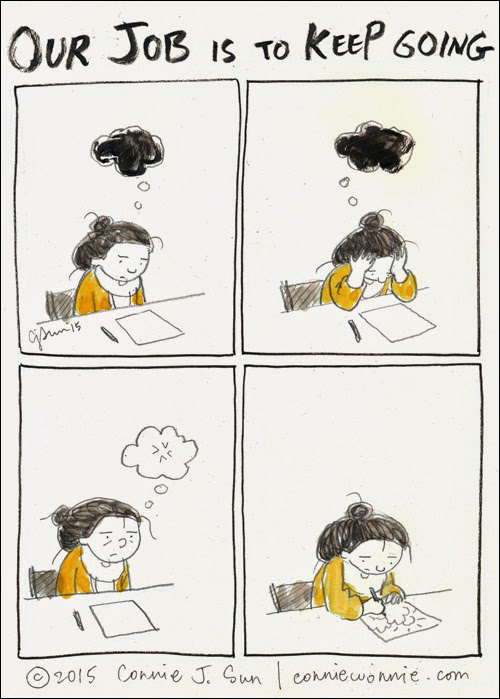 Our Job is to Keep Going by Connie Sun.
* * *
#JeSuisCharlie? No, I'm really not Charlie Hebdo: Here's Why
: "I think of myself as a staunch supporter of freedom of expression but I realize the disquieting truth that I could never publish some of the cartoons Charlie Hebdo did. It would go against every fibre of my being. But I will defend their right to exist and condemn what happened to them with every fibre of my being as well. But I just cannot say #IAmCharlieHebdo."
* * *
Trolls and Martyrdom: Je Ne Suis Pas Charlie
: "When the only thing you're reverent of is irreverence, you eventually get chan culture -- people who shout racial slurs and think they've accomplished something in the name of 'free speech.'"
* * *
Pakistani Cartoonist on Charlie Hebdo, Satire and Islam
: Pakistani cartoonist Shahid Mahmood built a career on creating satire about religion and politics, often under threat, but the shooting at the Charlie Hebdo office in Paris left him stunned.
* * *
A Sikh response to Charlie Hebdo Massacre
: "I am Sikh and tired of intolerance and although I find many of your cartoons distasteful I would die for your and my right to express our opinions."
* * *
Please don't tell me I was lucky to be adopted
: "For me, being an adoptee is like getting into a horrible car accident and surviving with devastating injuries. But instead of anybody acknowledging the trauma of the accident, they tell you that you should feel lucky. Even if the injuries never stop hurting, never quite heal. Even if the injuries make it impossible to feel comfortable in everyday life."
* * *
The Chinese Exclusion Act Raised the Price of Becoming an American
: A new exhibit from the New York Historical Society tells the story of the Chinese Exclusion Act from the immigrant's point of view.
* * *
Capitol Gain: Three New Asian-American Members Join Congress
: Three new Asian Pacific Islander Americans (AAPI) were sworn into the 114th Congress in Washington today: Aumua Amata Coleman Radewagen (R, American Samoa), Ted Lieu (D, CA-33), and Mark Takai (D, HI-01).
* * *
A Restaurant That Serves Up A Side Of Social Goals
: Srirupa Dasgupta opened Upohar, a restaurant and catering service, with a social mission. Her employees -- primarily refugees -- earn double the minimum wage.
* * *
Travel Industry Caters to Asian Americans with Culture, History
: As the Asian American population grows, experts say, so does their contribuation to the travel industry -- specifically through what is called "culture and heritage travel."
* * *
British Chinese people say racism against them is 'ignored' - BBC Newsbeat
: A brief look at racism and violence against British Chinese people -- racism that is often minimized or ignored by law enforcement.
* * *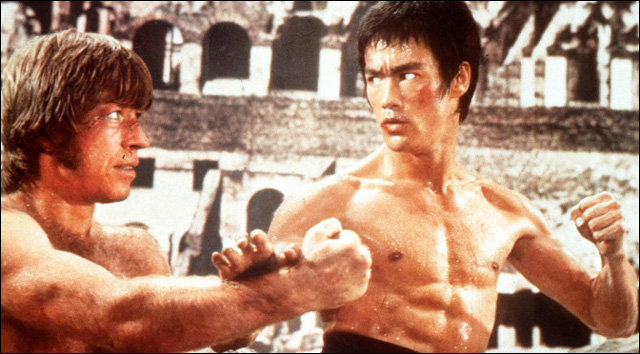 NOCs of the Roundtable: Best Fight Scenes Ever
: The martial arts movie enthusiasts at Nerds of Color convened a roundtable to talk their favorite film fight scenes of all time.
* * *
The Slants: Asian-American band keeps fighting U.S. government for right to reclaim 'slur'
: The Slants, a Portland-based Asian American band, has been in an ongoing fight with the U.S. Patent and Trademark office for the use of their band name.
* * *
The TV show "Selfie" is now history-but it's also the future
: Before its first season was even finished, ABC canceled 'Selfie,' a romantic-comedy starring John Cho and Karen Gillan, airing its remaining episodes online rather than on broadcast. When that happened, the show got much better -- garnering a bigger fanbase.
* * *
The Brilliance of Kato
: NOC on why the most important character in the
Green Hornet
mythos is not the eponymous crime-fighter, but his partner Kato, who subverted the superhero sidekick paradigm.
* * *
Sex + Food: Boner Constrictor
: Vice host Felix Fang visits old-school LA Chinatown chef Lupe Liang for an "off-the-menu" eight-course dinner of boa constrictor -- said to spark the libido and increase sex drive.
* * *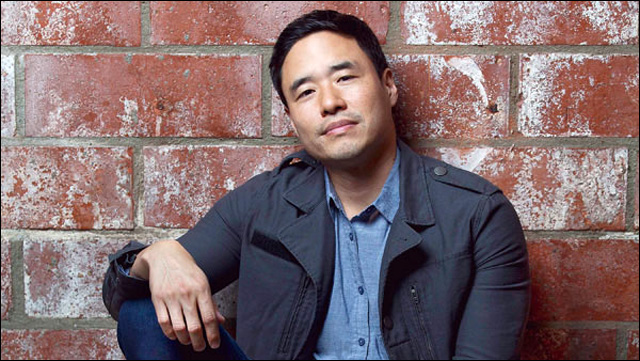 Off Script with Randall Park
: Randall Park has long entertained fans with scene-stealing spots on television, film and the web. Now, with two major studio projects to his name, the actor talks candidly about working in the industry, diversifying roles and playing the long game.
* * *
Hoop Dreams
: "They'll never let someone with a face like you on television." Here's a brief
New Yorker
profile of Eddie Huang, whose coming-of-age memoir inspired the upcoming ABC sitcom
Fresh Off The Boat
.
* * *
Margaret Cho Talks About Sex
: Comedian Margaret Cho co-hosts a new TLC talk show,
All About Sex.
She speaks with CAAM about sex and sexuality, Robin Williams and homelessness, self-love, her ill-fated sitcom
All-American Girl
, as well as her take on
Fresh Off the Boat.
* * *
Nolen Niu Judges Furniture Design Reality Show
: Los Angeles-based furniture designer Nolen Niu can be seen judging Spike TV's reality show
Framework
, a furniture design competition.
* * *
Daniel Dae Kim to make directorial debut on 'Hawaii Five-0'
: Daniel Dae Kim, who plays Chin Ho Kelly on
Hawaii Five-0
, will make his directorial debut on an upcoming episode of the CBS cop drama's fifth season.