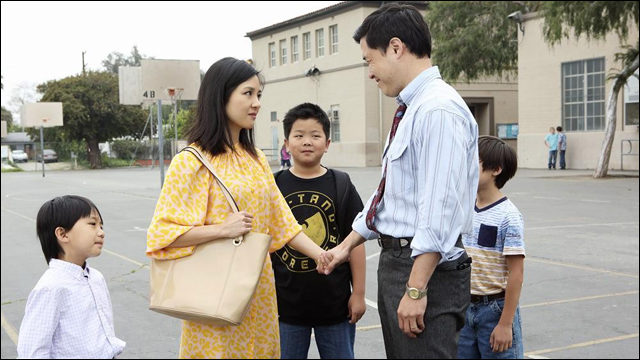 A bumpy maiden voyage for 'Fresh Off the Boat'
:
Fresh Off the Boat
, the new family comedy on ABC, set out on its voyage with a relatively promising forecast. The show has been mostly well received by critics and stands as the first network sitcom about an Asian American family since Margaret Cho's short-lived
All-American Girl
premiered two decades ago.
* * *
'Fresh Off the Boat': A TV Dad and Hundreds More Cram Viewing Party
: "It was supposed to be a quiet, casual community gathering."
Wall Street Journal
columnist Jeff Yang, whose son Hudson plays Eddie Huang on
Fresh Off the Boat
, reflects on the packed New York City viewing party for the premiere of the show.
* * *
Watching Fresh Off the Boat With 999 Asian-Americans
:
Vulture
writer E. Alex Jung also reports from the wildly successful and well-attended "live community viewing" of
Fresh Off the Boat
in New York City.
* * *
For a dad stung by stereotypes, 'Fresh Off the Boat' is point of pride
: Jeff Yang writes about being stung by the stereotype Long Duk Dong in
Sixteen Candles
, the disappointment of
All-American Girl
, and now, witnessing the mind-bending, time-twisting arrival of
Fresh Off the Boat
.
* * *
'Fresh Off the Boat': Hudson, Jeff Yang talk playing Eddie Huang
: Hudson Yang, who plays young Eddie Huang in
Fresh Off the Boat
, sits down with his dad for a radio interview to talk about starring in the show.
* * *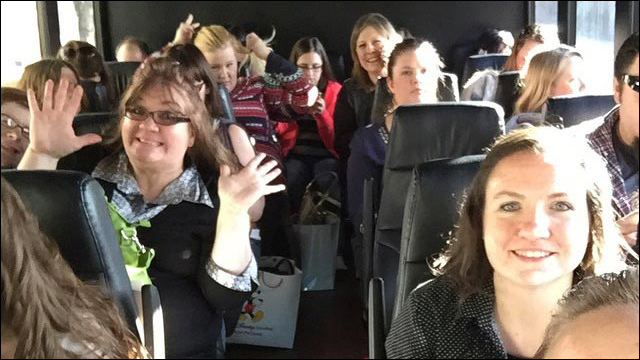 Fresh Off The Boat? How About a Seat on the Bus?
Disney/ABC recently held a publicity event to promote
Fresh Off the Boat
to a group of parent bloggers... and failed to invite any Asian American parent bloggers.
* * *
Eddie Huang is our Richard Pryor: "Fresh off the Boat" and TV history in the making
: "I'm an Asian who writes about pop culture on the Internet, and that means you're going to hear from me about "Fresh off the Boat" this week. It's inevitable. If you don't want to hear about this show I suggest unfollowing all Asians less important than Ban Ki-Moon for at least the next few months."
* * *
Eddie Huang Against the World
: Another insightful profile of chef/restaurateur Eddie Huang.
* * *
Randall Park throws Asian-American stereotypes overboard in 'Fresh Off The Boat'
: An interview with Randall Park, who stars as the dad of the Huang family in ABC's
Fresh Off the Boat
.
* * *
Fresh Off the Boat's showrunner talks joking about race (without being racist)
: "The Asian component of this was never intended to be the butt of the joke. We just wanted to make these characters strong and funny in and of themselves. The fact that they happened to be Asian influences things, because that's where they're coming from and that's their perspective, but it's not the joke."
* * *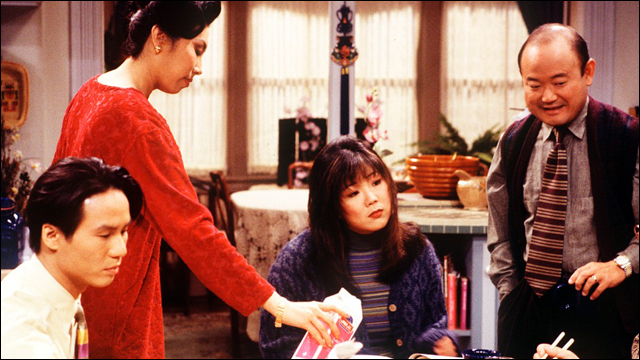 A Brief, Weird History Of Squashed Asian-American TV Shows
: In honor of
Fresh Off The Boat's
much-heralded premiere, NPR's Code Switch looks back at small handful of past, short-lived television shows that featured Asian American leads -- "groundbreaking" shows that broke little ground.
* * *
What's So 'Cringeworthy' About Long Duk Dong in 'Sixteen Candles'?
Long Duk Dong in
Sixteen Candles
was an Asian American cliche for a new generation. And like most media cliches, it came real-life implications.
* * *
Why Mindy Kaling Refuses to Talk about Race-and Why I Care So Much
: "We are neither black nor white; there is no blueprint to discuss the nuances of our own experiences."
* * *
Steven Yeun's 'Glenn': Slaying Zombies And Getting The Girl
: An interview with Steven Yeun, the actor who plays zombie apocalypse survivor Glenn Rhee on AMC's hit drama
The Walking Dead
.
* * *
Bryan Gaw, the Left Shark: 5 Fast Facts You Need to Know
: The infamous Left Shark from Katy Perry's Super halftime performance has been revealed to be her longtime backup dancer Bryan Gaw.
* * *
How Jin empowered Asian-American rappers
: A profile of MC Jin, an inspiration to an entire generation of Asian American emcees who are now pursuing their own careers in hip hop.
* * *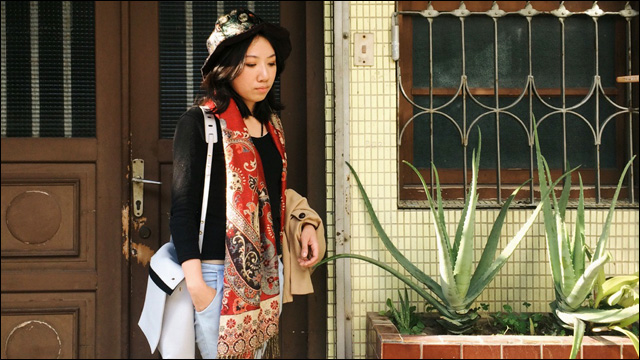 "Hey Queer" Captures Queer Asian Beauty and Culture
: 'Hey Queer,' cofounded by Wen Liu and Sinru Ku, is a new photography project based in New York City that captures the beauty of queer Asians.
* * *
U.S. Surgeon General Vivek Murthy Says Marijuana 'Can Be Helpful' For Some Medical Conditions
: Dr. Vivek Murthy, the nation's new surgeon general, says that marijuana "can be helpful" for some medical conditions, and wants science to dictate policy on the federally banned substance.
* * *
Why a Bobby Jindal Portrait Sparked a Racial Controversy
: A Twitter storm broke out when someone tweeted a portrait of Bobby Jindal's portrait which featured a whitewashed version of the Louisiana governor. Turns out, it wasn't his official portrait, but Jack Linshi thinks this is still a conversation worth having.
* * *
Mark Wahlberg Never Stopped Acting Like a Criminal
: "America's most public 'felon with a firearm,' is a white, A-list actor." Becoming a multimillionaire simply allowed him to keep breaking the law with impunity.
* * *
AAPI Union Membership Grows, Bucking National Trend
: Although union membership declined nationally, a new report reveals a rise in union membership among Asian Americans and Pacific Islanders, from 9.4 percent in 2013 to 10.4 percent in 2014, an increase of 96,000 workers.
* * *
A Mosque of One's Own
: Our friend Taz talks about prayer service at the Women's Mosque of America, her #GoodMuslimBadMuslim podcast, and remembering her mother.
* * *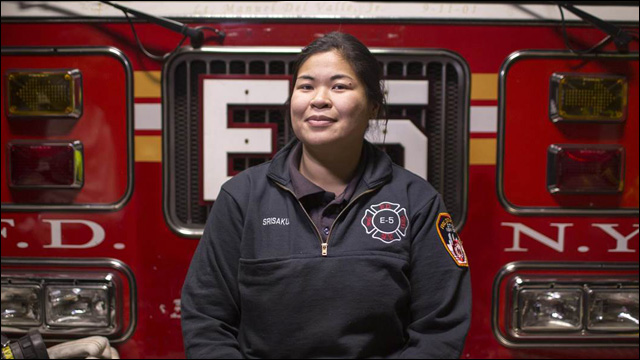 Meet New York's Only Female, Asian-American Firefighter
: Sarinya Srisakul works at Engine 5 in Manhattan, and is New York's only female Asian American firefighter.
* * *
Natalie Nakase seeks to climb from Clippers' video room to NBA coach
: Natalie Nakase's feisty defiance could take her from Clippers' video room work to her dream job of NBA coach.
* * *
On Deck for the Yankees, From South Korea, Rob Refsnyder
: Rob Refsnyder is a top Yankees prospect and a gifted hitter who has been invited to his first major league spring training this month.
* * *
The guy standing between Facebook and its next privacy disaster
:
Survivor
champion, host of
America Revealed
, and now part of Facebook's privacy team, the multitalented Yul Kwon talks about saving Facebook from another privacy disaster.
* * *
Gene Luen Yang To Write Superman With John Romita Jr - The End Of The New 52
: Our friend Gene Luen Yang, award-winning graphic novelist of
American Born Chinese
and
Boxers & Saints
, will write
Superman
, with art by John Romita Jr., for DC Comics' mini-relaunch starting in June.
* * *
The Fishnets Are Back - Black Canary By Brenden Fletcher, Annie Wu And Irene Koh - The Batgirling Of DC Comics Starts Here (UPDATE)
: Annie Wu and Irene Koh will provide the art for the relaunch of DC Comics' new
Black Canary
series.