Saturday, February 21 at Busby's East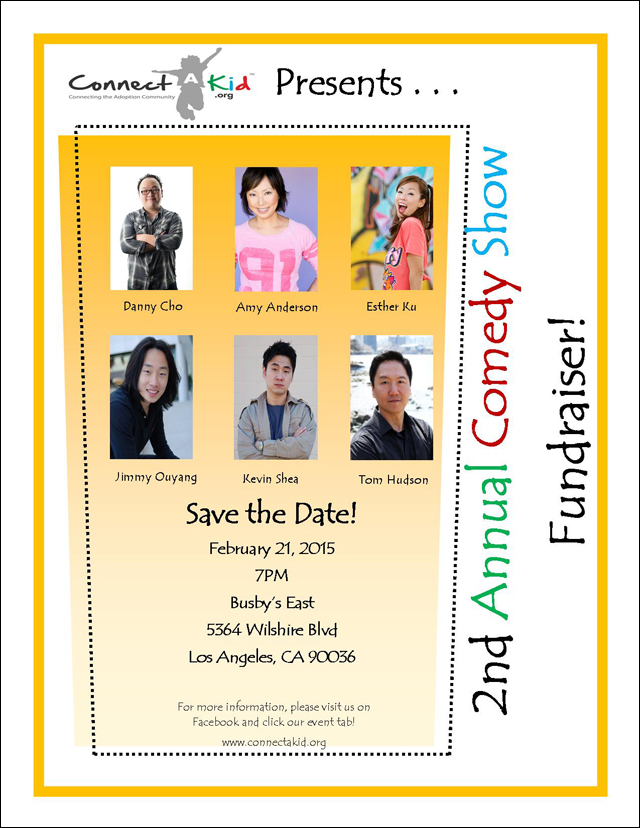 Hey, LA.
Connect A Kid
is a mentorship program for adopted children. They are throwing their second annual fundraiser, and this year it's a comedy show, featuring acts from Amy Anderson, Kevin Shea, and many more. It's all happening Saturday, February 21, at Busby's East in Los Angeles. Here's more info:
CAK's 2nd Annual Comedy Show Fundraiser

Saturday, February 21
7:00pm

Busby's East
5364 Wilshire Boulevard
Los Angeles, CA 90036

Connecting adopted kids with adult adoptees is more than just a post-adoption program. It is the foundation of a life long bond that can only be shared by two such individuals. Connect-A-Kid is committed to providing adopted kids everywhere with a safe and monitored mentorship program that provides a comfortable outlet to which they can look for support, advice, or simply a companion who understands what it means to be adopted.

Come support Connect-A-Kid's 2nd Annual Comedy Show Fundraiser on Saturday, February 21st at Busby's East in Los Angeles, CA. Comedians include:

Amy Anderson
Esther Ku
Danny Cho
Kevin O'Shea
Jimmy Ouyang
Kenny Ortega
Tom Hudson


Tickets are $20 and can be purchased
here
. For more information about the event,
click here
.