Musical tells the story of Japanese Americans in internment camps during World War II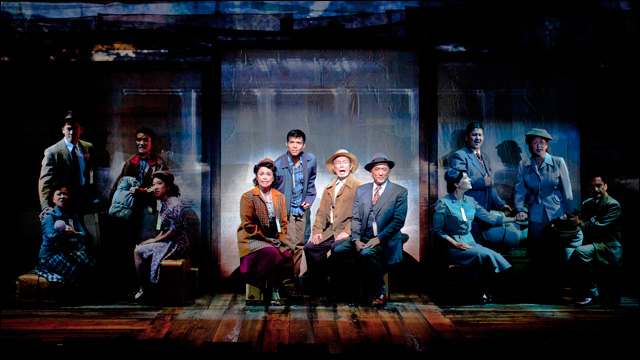 Some big Broadway news!
Allegiance
, a new musical starring George Takei and telling the powerful story of Japanese Americans who were incarcerated during World War II, will finally open on Broadway next season.
Breaking News: ALLEGIANCE Will Arrive on Broadway This Fall; George Takei Set to Lead Cast!
Allegiance
, which had its world premiere in a record-breaking engagement at San Diego's Old Globe Theatre in 2012, will open on Broadway at a Shubert Theater to be announced. Previews are set to begin on Tuesday, October 6, 2015 with opening night set for Sunday, November 8, 2015.
Based on Takei's real life childhood,
Allegiance
is described as "a touching and uplifting story about a family's love, loss and heroism during the period of the Japanese -American internment in World War II."
Mr. Takei calls
Allegiance
his "legacy project":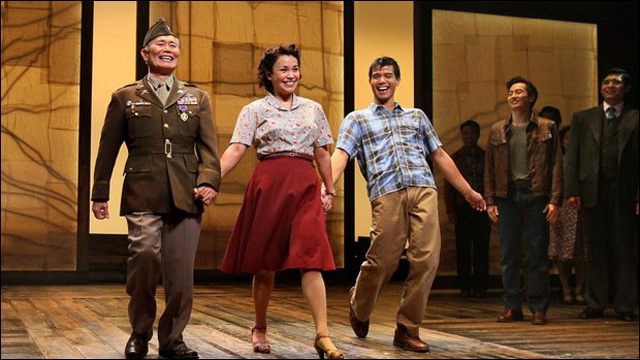 Mr. Takei, in a telephone interview, described the show as "very, very personal" and a tribute to his parents as well as the tens of thousands of people of Japanese ancestry – the majority of whom were American citizens – who were forcibly relocated to camps from 1942 to 1946 under an order by President Roosevelt. Mr. Takei said that he had invested a "substantial" amount of his own money in the musical, and that it features characters drawn from his family and life, including a grandfather character that Mr. Takei will portray in his Broadway debut.

"I consider this my legacy project," said Mr. Takei, who is 77 and spent about four years of his childhood in two camps. "This is the first time that this dark chapter of American history will be done on the Broadway stage."

Allegiance
has book by Marc Acito with music and lyrics by Jay Kuo, and will be directed by Stafford Arima. Aside from Uncle George, no other casting is confirmed, but original Old Globe cast members Lea Salonga and Telly Leung are reportedly in negotiations to reprise their roles on Broadway.
More here:
George Takei to Star in Broadway Musical About Interned Japanese-Americans