An intensive two-week mentorship program for aspiring filmmakers who want to inspire change.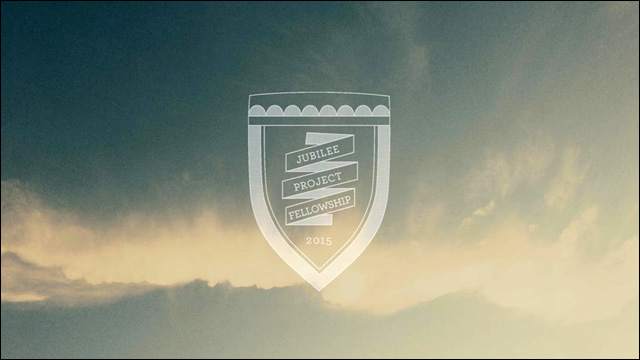 Our friends at the Jubilee Project aim to make stories that inspire change. Now it's your turn.
The
Jubilee Project Fellowship
is a transformative experience for aspiring filmmakers, producers, storytellers, and changemakers. They're looking for twelve young, aspiring filmmakers to join them in Los Angeles this summer to live together for two weeks, August 2-16, to write, direct and produce films together.
Here's a
video
with your invitation:
Here's some more information about the fellowship:
Jubilee Project Fellowship is a transformative experience for aspiring filmmakers, producers, storytellers, and changemakers.

Through an intensive two-week period in Los Angeles, California, Jubilee Project mentors and teaches a small group of twelve filmmakers to hone their craft and use film for social good. We gather talented creatives from around the world to live together for two weeks, produce high-quality short films, and build relationships with life-long friends. Jubilee Project Fellowship gives you:

A Hands-On Approach to Filmmaking
Fellows have the opportunity to develop, write, produce, film, and edit their own short film for a good cause during the course of the Fellowship. In the four weeks prior to the Fellowship, teams are formed and begin idea development and pre-production. Casting, filming, and editing happens during your two weeks in Los Angeles. At the end of the Fellowship, teams will have completed an entire short film.
Picture

A Community of Stellar Peers
During the Fellowship, you will be surrounded by a community of stellar peers and passionate leaders. As a Fellow, you will not only form a tight bond with your class, but you will also be a part of our global network of talented filmmakers who have a desire to tell stories to inspire change. Our Fellows work together on films, collaborate on projects, and are a part of a lifelong community of changemakers.
Picture

Guidance from Industry Veterans
Our speakers include Emmy-nominated TV writers, feature film directors, documentary producers, new media pioneers, non-profit leaders, and more. They have been through the trenches and have come out the other side with a wealth of experience and they are here to share their knowledge on topics ranging from storytelling to cinematography to finding your life's purpose to making an impact with YOU.

The application deadline is April 15. For further information about the fellowship, including selection criteria, fellowship logistics and how to apply, head over to the
Jubilee Project website
. Good luck.