Hong Yen Chang was denied the right to practice law in California in 1890 be­cause of his race.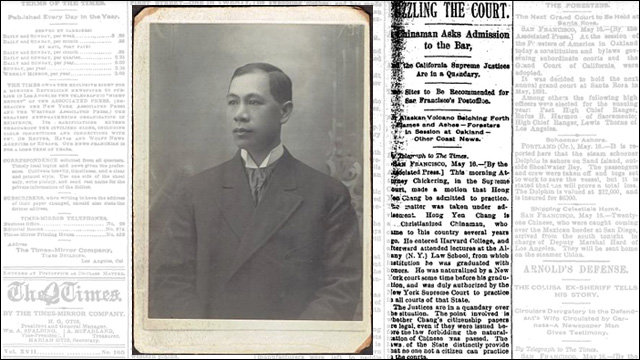 This is awesome. On Monday, the California Supreme Court decided unanimously to grant a posthumous law license to a Chinese immigrant whose application was denied 125 years ago solely because of his race.
Chinese immigrant, denied law license in 1890, gets one posthumously
In 1890, Hong Yen Chang came to San Francisco and applied for a license to practice law to help his fellow Chinese immigrants. But the state Supreme Court said Chang, despite his New York state law license, was ineligible for the California bar because of "persons of the Mongolian race" were not entitled to citizenship.
This week, in a nine-page ruling, the state court -- which includes three Asian American justices -- repudiated the 1890 decision. While the court said the ruling could not undo history, it was "past time to acknowledge that the discriminatory exclusion of Chang from the State Bar of California was a grievous wrong."
Chang entered the United States in 1872, at age 13, under a Chinese educational program. He graduated from Columbia Law School in 1886 and, two years later, became the nation's only Chinese lawyer after a judge in New York state, with legislative approval, granted him naturalized citizenship and a law license.

His 1890 application to practice law in California cited state laws that granted licenses to attorneys of good character who had been approved for practice in other states. But the state's high court relied instead on the Chinese Exclusion Act, passed by Congress in 1882, and on California's own set of exclusionary laws, written into the state Constitution after a constitutional convention in 1879 and subsequently approved by the voters.

The constitutional provisions denied the right to vote to any native of China and directed the Legislature to pass laws forbidding employment of "any Chinese or Mongolian," and to do everything within its power to discourage Chinese immigration. Lawmakers passed those statutes in their next session.

After the bar rejected him, Chang pursued successful careers in diplomacy and finance, and eventually retired in Berkeley before his death in 1926. He was never licensed as a lawyer in California.
Now, Chang finally gets his law license thanks to the work of
Professor Gabriel Chin and students at the UC Davis School of Law
, who took up his cause in 2011. Props. And it only took 125 years.
More here:
Court rights racial injustice against law pioneer after 125 years