Courtside fan called for interference after knocking ball away from LeBron James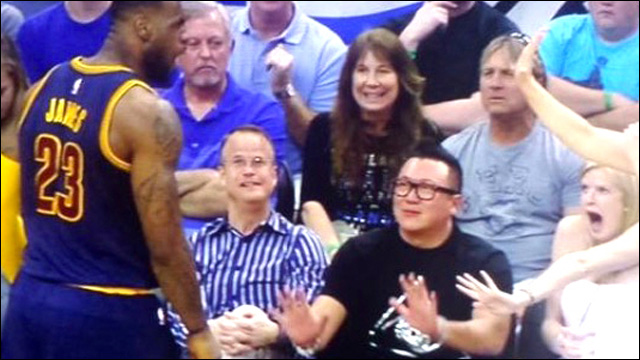 17,000+ fans in attendance at the Amway Center. Guess which one LeBron James wanted to murder? At last night's game between the Cleveland Cavaliers and the Orlando Magic, one courtside fan got called for interference after getting a touch too interactive and messing with LeBron's game.
Fan Called for Interference After Knocking Ball Away from LeBron James
In the fourth quarter, James tried to save a loose ball from going out of bounds, but was unable to get a handle on it when the fan, sitting courtside, knocked it away. LeBron, understandably, was not cool with this. After reviewing the play, officials called interference on the fan and awarded the ball to Cleveland.
Fans, don't be this guy. Do not touch the frickin' ball:
To be fair, it looks like the guy acted instinctively, like any of us would if you suddenly saw a hard rubber sphere hurtling towards your face. The dude also immediately appeared very sorry and embarrassed for what he had just done. (I probably would be too, particularly if LeBron was giving me that death stare.)
The Cavaliers ultimately won 123-108.