Cross-posted from 18 Million Rising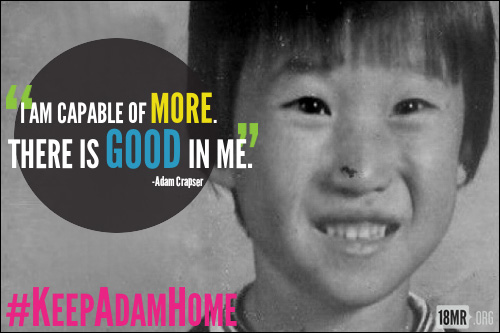 In 1979, Adam Crapser arrived in the United States as a Korean adoptee. Accompanied by his older sister, Adam's life in this country quickly became a nightmare.
First adopted by the Wright family in Michigan, Adam found himself the victim of physical abuse. In 1986 and
without completing Adam's naturalization papers
, the Wrights relinquished their parental rights to county services in an effort to "rehome" the adopted siblings. As wards of the state, the county separated Adam from his sister and sent him to live in a group home.
One year into life in the group home, Adam was adopted the by Thomas and Dolly-Jean Crapser in Oregon who -- along with their biological children -- subjected Adam to unspeakable physical, emotional, and sexual abuse and torture.
Four long years later, the Crapsers were arrested, charged, and plead guilty to multiple counts of child abuse, child sex abuse, and child rape.
No doubt, Adam Crapser is a survivor. And like many survivors of abuse and violence, he bears the life-long marks of trauma. Despite this,
Adam is building a life as a married father of three children, with a fourth due this spring.
Now, he's focused on living a healthy, productive life in the country he calls home.
But the federal government isn't so quick to let Adam call America his home.
In January, the Department of Homeland Security slapped him with deportation papers. Just a few short weeks from now, Adam will begin the proceedings that will determine whether or not he'll continue building a life with his family in the only country he's ever known as home, or if he'll be deported to Korea – a land to which he has no connection.
With Adam's hearing bearing down on April 2nd, there is a way to bring the threat of deportation to a full-stop.
Raphael Sanchez, the person at the helm of the Office of the Chief Counsel (OCC), has the power to completely end these legal proceedings against Adam.
The OCC is the office that prosecutes immigrants before the Immigration Court. In an act of prosecutorial discretion, Sanchez could call for administrative closure – essentially walking away from the case and having it closed by the court. Once this happens, Adam can renew his green card indefinitely.
Even more, legislative efforts are underway to grant retroactive citizenship to all international adoptees whose naturalizations were not originally covered by the Child Citizenship Act (CCA) of 2000.
An amendment to the CCA would allow Adam to stay home with his family and finally receive the citizenship that was promised to him – but this can only happen if he isn't deported.
Adam's children need him. His wife needs him. This country is his home, and he should not be deported because his abusive adoptive parents failed to complete his naturalization paperwork.
Demand that Raphael Sanchez #KeepAdamHome by enacting administrative closure on Adam Crapser's deportation case.
Sign 18 Million Rising's petition here.