Nu Alpha Phi suspended after pledge nearly loses four fingers to severe frostbite.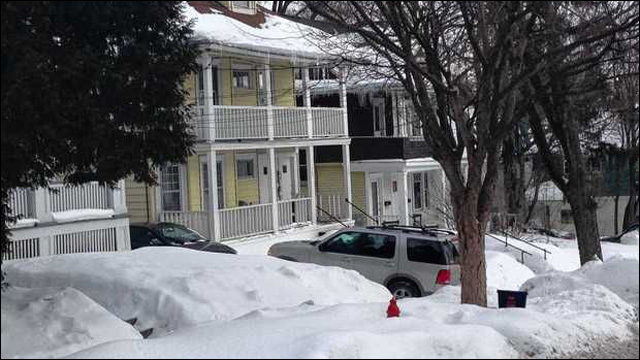 Come on, people. At Syracuse University, a fraternity has been suspended and two students were arrested and charged in connection with a hazing incident that almost cost a pledge several fingers to severe frostbite.
Syracuse University suspends fraternity over hazing incident
19-year-old Tae Kim and 21-year-old Jeffrey Yam of Nu Alpha Phi, an Asian American-interest fraternity, were charged with misdemeanor first-degree hazing after forcing three pledges to do push-ups, crawl and roll around in the snow without gloves. The exercise was apparently a "punishment" for failure to perform pledge duties.
One of the pledges, a 20-year-old student, suffered severe frostbite and was in danger of losing four fingers -- two fingers on both hands. Thankfully, it now looks like his fingers are going to be okay.
Police said three pledges at Nu Alpha Phi fraternity were forced to do aerobic exercises at 12 a.m. Sunday at Lower Hookway Park at 1805 E. Colvin St. The pledges were being punished for not doing their chores properly, police said.

A 20-year-old pledge told police they spent about 30 minutes doing push ups, sit ups and crawling exercises in the snow, instead of the fraternity's attic of 739 Ackerman Ave., where punishments usually take place. He said they were wearing hooded sweatshirts, pants, boots and no gloves.

When the exercises were done, the pledge said they were given hand warmers and told to walk back to the fraternity. The victim said he went home and ran his hands under warm water, but they still hurt.

He went to Crouse Hospital the next day when the pain didn't stop. He was told he has severe frostbite and could lose four fingers -- his ring and pinkie fingers on both hands.

According to police, the pledge will require "extensive" physical therapy to maintain use of his ring and pinkie fingers on both hands, but blood is flowing to the fingers. He's going to be okay. This would have been the stupidest reason anyone has ever lost one or more fingers in the history of losing fingers.
And it looks like he doesn't have to worry about getting into the fraternity, because Syracuse University suspended Nu Alpha Phi on Monday. Meanwhile, Kim and Yam will appear in court on March 18.
I've got nothing against fraternities and sororities. I know awesome people who are dedicated, active members of Greek life. But as I've said before, personally, I've never understood the appeal of joining an organization that requires people to endure so much bullshit to gain membership. I'm sure as hell not going risk freezing my fingers off for a frat. Just my preference.
More here:
Syracuse University hazing victim not expected to lose fingers to frostbite, police say