37-year-old Randhir Kaur was murdered in her apartment.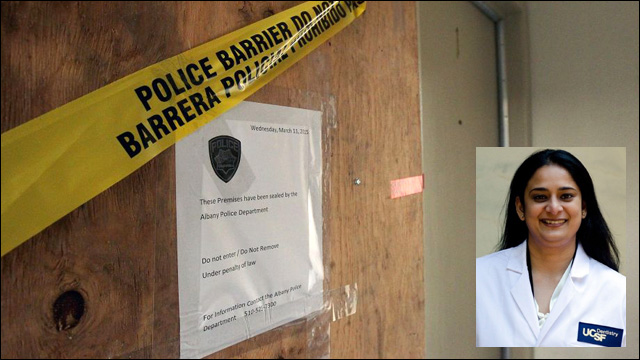 Some tragic news out of the Bay Area... Last week in Albany, a UCSF dental student from India was found shot to death in her apartment hours after attending services at a Sikh temple. Police are ruling it a homicide.
UCSF student fatally shot in Albany hours after temple visit
The body of 37-year-old Randhir Kaur, a student at the UCSF School of Dentistry's International Dentist Program, was discovered by her cousin on March 8 after university officials became concerned about her well-being. According to the coroner, she was shot once in the head.
Kaur had spent the afternoon at a Sikh temple in El Sobrante and had planned to spend the evening studying. Investigators believe she was accosted and shot sometime after arriving home:
Police said Kaur had attended afternoon prayers at Gurdwara Sahib, a Sikh temple in El Sobrante, on March 8. She had planned to spend that evening studying.

Authorities said they believe Kaur was accosted and shot sometime after she arrived home in the evening.

Officers found Kaur lying on the floor of her apartment. There were no signs of forced entry, and her car, a brown 1999 Toyota, was found parked and locked at her home, police said.

Investigators revealed that personal items belonging to Kaur were taken from her home and found inside a trash can on the 5200 block of Panama Street in Richmond, about 2 miles away.

Anyone with information regarding the case is asked to contact the Albany Police Department at (510) 525-7300. Anonymous tips can be called in to Bay Area Crime Stoppers at 1-800-222-8477.
More here:
Dental student from India fatally shot after temple visit