Parents of slain roommates say Elliot Rodger's deadly rampage could have been prevented.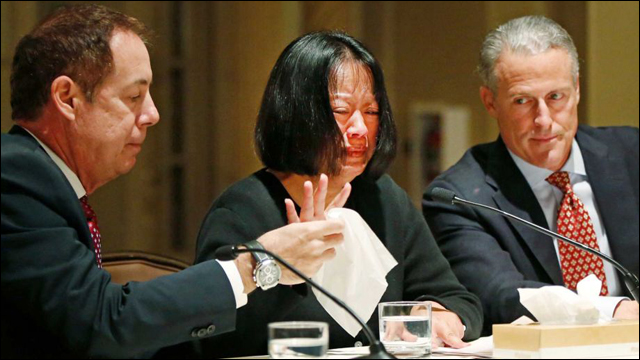 The families of the three UC Santa Barbara students who were killed in Elliot Rodger's deadly rampage in Isla Vista last year have filed a federal lawsuit against Santa Barbara County, the county Sheriff's Department and the apartment complex where Rodger lived, alleging all ignored warning signs that he was dangerous.
Families of Elliot Rodger's slain roommates sue sheriff's, apartment
Rodger killed six UC Santa Barbara students and injured 14 others before taking his own life on May 23, 2014.
The lawsuit was filed by the parents of David Wang and James Hong, who were Rodger's roommates, and the parents of George Chen, who was a friend of Wang and Hong. They three students were each ambushed in the apartment and stabbed repeatedly to death before Rodger went out on a shooting spree.
The lawsuit alleges a failure on several levels, by multiple agents, to recognize red flags that Roger was potentially unstable, violent and a possible danger to himself or others.
The suit alleges that the apartment building was negligent and that law enforcement authorities failed to properly investigate reports that Rodger was dangerous to himself and others.

The lawsuit contends that the apartment building owners and manager failed to complete reasonable background checks to ensure that Rodger was an appropriate and safe roommate before assigning him to Wang and Hong. The apartment building "failed to warn Hong and Wang that Rodger had had serious conflicts with his previous roommates and was not only racist but also potentially violent and dangerous," the lawsuit alleges.

The lawsuit says that Hong and Wang trusted that Rodger had been properly vetted by the apartment complex.

The lawsuit also claims that the county and Sheriff's Department ignored numerous "red flags" that Rodger was unstable and failed to properly investigate online evidence and reports that he was a danger to others.

About a month before the killings, sheriff's deputies visited Rodger to do a "wellness" check after a call from a mental health worker who saw several online videos he posted expressing "his jealously and rage toward women, minorities and people who are sexual active." Somebody was concerned enough to call the cops.
But according to the lawsuit, nobody from the Sheriff's Department reviewed the online posts, performed a background or weapons check before or after speaking with Rodger.
Kelly Wang, mother of George Chen, says they are filing the lawsuit to prevent further tragedies.
"As the mother of a lost lamb, the fence must be mended so no more innocent lambs will fall victim of future evil wolves. Please fix the fence before one more lamb is lost and before another mother has to sit here and do the plea as I do. The purpose of this legal case is to fix the fence."
More here:
Mother Says Rampage Lawsuit Filed to Prevent Tragedies