Retailer refuses to carry beer over racist, sexist bottle label.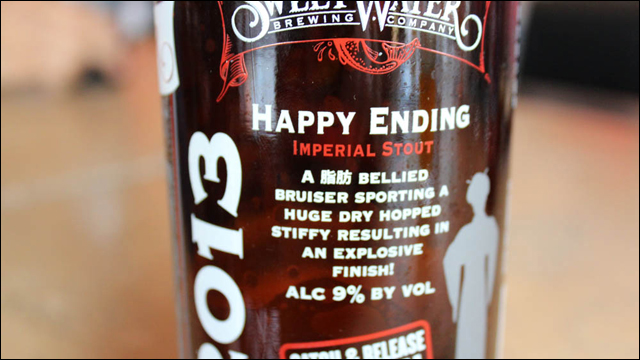 Would you drink a beer called "Happy Ending"? This one comes courtesy of Atlanta-based SweetWater Brewing Co., who apparently have no problem marketing their beverages with sexist, racist stereotypes. One Chicago retailer has a problem with it, and has made headlines for refusing to carry the beer.
Does craft beer have a sexism problem? Binny's rejects Happy Ending
SweetWater's Happy Ending imperial stout label art features a box of tissues, the silhouette of a geisha and that "O-face" guy from
Office Space
. The beer is subtly described as "sporting a huge dry hopped stiffy resulting in an explosive finish!" Well, I'm sure someone thought they were being clever.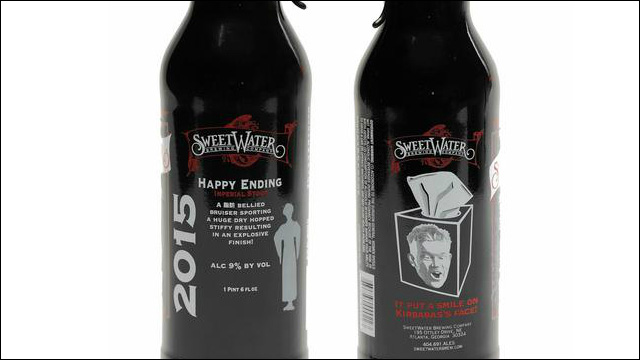 SweetWater reportedly sent out promotional packages of Happy Ending
with small bottles of hand lotion
.
Received these in the mail. @sweetwaterbrew has jokes. pic.twitter.com/5CKD3G6bB3

— Chris Fuhrmeister (@ccfuhr) January 9, 2015
Binny's Beverage Depot in Lincoln Park has declined to stock bottles of Happy Ending. "This label is about a female Asian sex worker manually masturbating a man to orgasm and cleaning up the ejaculate with tissues," store manager Adam Vavrick told the
Chicago Tribune
. "Why is that appropriate on a beer label?"
Breweries: One thing I simply do not tolerate in my department is sexist or racist beer labels. I demand better and will not carry them.

— Adam Vavrick (@beeradam) March 23, 2015
Though mostly just chatter until now, Vavrick sending back three cases of Happy Ending — 36 large-format (22-ounce) bottles — is among the rare instances of a Chicago store declining to carry a beer due only to its label. According to SweetWater's Chicago distributor, Lakeshore Beverage, no other store, in the Binny's chain or otherwise, refused to stock the beer.

Vavrick said he became aware of the label when SweetWater beer arrived in Chicago this week, and a "visibly upset" male employee brought it to his attention. Vavrick said he polled three more Binny's staff to gauge their feelings.

"They all felt the same way — it's gross and it has no place in here," Vavrick said. "A female employee said she wouldn't be comfortable recommending that beer to anyone."

The
Tribune
also describes a promotional video uploaded to the internet two years ago by the brewery that shows a man standing behind a bar taking a sip of Happy Ending, then staring into the distance and exclaiming, "Oh, god, that's good!" A woman dressed as a geisha then rises from behind the bar, fans her face, offers a suggestive look, then descends back below the bar. The video has since been
taken down
.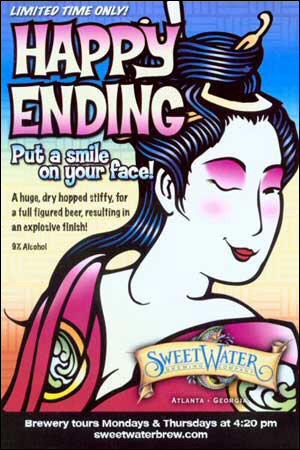 SweetWater founder Freddy Bensch says they didn't mean any harm with the name and label. Which, of course, is the appropriate thing to say when you don't want to admit that you are peddling your product with shitty stereotypes. "We maybe didn't think this all the way through." No shit, Freddy.
More here:
Chicago Retailer Drops SweetWater Brew Over 'Sexist, Borderline Racist' Bottle