Ben and Ray Lai claim Marvel illegally copied elements of their comic book 'Radix.'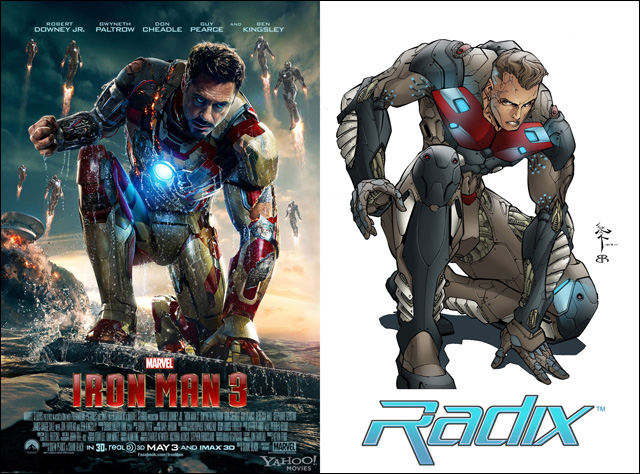 A pair of comic book artists have filed a federal lawsuit against Marvel Entertainment, alleging that the super-powered armored suit worn by Tony Stark in
The Avengers
and
Iron Man
movies copied their work.
Comic Book Artists Sue Marvel Over 'Iron Man' Body Armor
Brothers Ben and Ray Lai, the founders of Horizon Comics, filed a copyright infringement lawsuit against Marvel saying the suit worn by Iron Man illegally copies elements of their work on the comic book
Radix
.
The lawsuit, filed last week in U.S. District Court in Boston, names as defendants a series of Marvel and Disney enterprises and also makes claims of unfair and deceptive business practices.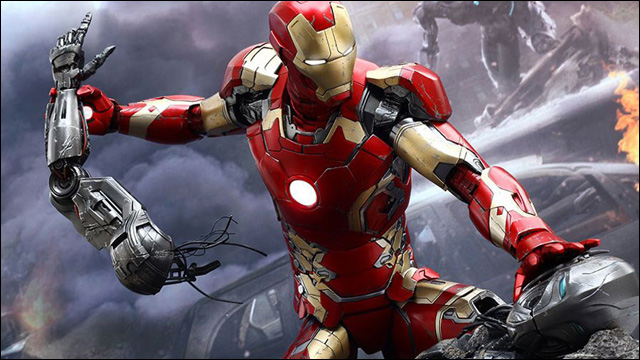 According to the
lawsuit
, "Shortly after
Radix
's release, the Lai brothers submitted their work in
Radix
to Marvel, and were hired by Marvel as artists, on account of that work. In the films, which followed a few years later, the traditional depiction of the protagonist in Marvel's comic books,
Iron Man
, radically changed."
Back in 2002, Horizon Comics issued a cease and desist to the Massachusetts Institute of Technology claiming the university used its images to win a $50-million nanotechnology research grant from the U.S. Army for next-generation body armor. The university issued a public apology to Lai and Horizon Comics saying it "regretted" the use of the image and was unaware that it had been "derived from another source."
Soon after, Marvel reached out to the Lai brothers and brought them on as artists to work on various titles. It was at this time the
Radix
material was seen by key personnel at Marvel. Not long after that, Iron Man's appearance began to change drastically. The Lai brothers contend that this was no coincidence.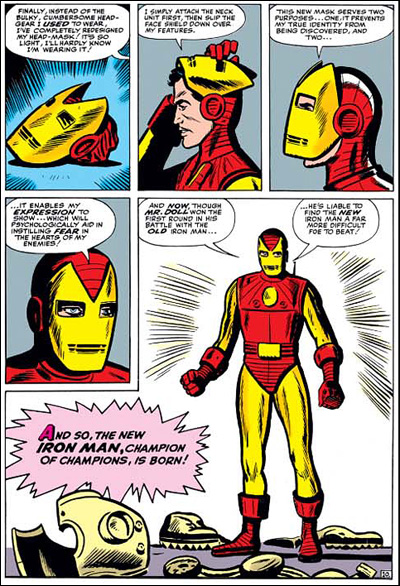 Tales of Suspense #48 (1963)
Iron Man was created in 1963 by Stan Lee. "From that time until the first movie in the franchise was released, the comic typically depicted Iron Man wearing simple spandex-like attire and minimal armor," while in the Marvel movies, the character is depicted "wearing a fully mechanized suit of body armor."

The lawsuit also draws attention to the marketing material used to promote the films, claiming a likeness to additional Radix material in the promotional movie posters used for Iron Man 2 and Iron Man 3.

Marvel's latest movie, The Avengers: Age of Ultron, which includes Iron Man, is set to for release on May 1.

The Hollywood Reporter calls the Lai brothers' lawsuit "an uphill battle."


Before even getting to the issues of whether Iron Man body armor is substantially similar to Radix body armor, whether the idea of a superhero wearing such a suit of armor is more than generic, and whether Iron Man body armor is merely functional, the lawsuit figures to test plaintiffs on whether they brought a timely-enough complaint.

Read the full court filing
here
.