NYPD detective Patrick Cherry was caught on camera losing his shit on an Uber driver.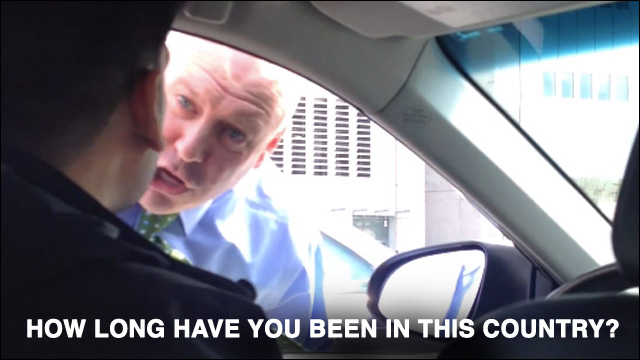 The cop who was caught on video screaming and cursing at an Uber driver in an
abusive, xenophobic roadside tirade
has apologized for his actions -- after the video went viral -- though in this interview with NBC4 New York, he also comes up with a lot of weak excuses for his behavior. It's not much of an apology.
Cop in Viral Uber Rant Video Apologizes, Says Emotions Got the Better of Him
The
video
, recorded and uploaded to YouTube by passenger Sanjay Seth, shows NYPD detective Patrick Cherry cursing at the driver and screaming, "How long have you been in this country?" He has been subsequently stripped of his badge and gun and transferred out of the FBI's elite Joint Terrorism Task Force.
Cherry claims the altercation started with the Uber driver began "honking and gesturing angrily," and the traffic stop was an attempt to "clarify the problem." He says he lost his temper when the driver was uncooperative. Seth, however, questions Cherry's interpretation of the incident.
"When I walked up, I was uptight. I wanted to know what the problem was," Cherry said. "I felt his driving actions were discourteous and impolite and when he stopped he said, 'I'm not going to give you anything."'

Sanjay Seth, the Uber passenger who filmed the incident from the back seat, responded to Cherry's account of the altercation in the NBC 4 New York interview, tweeting: "I question part of Detective Cherry's interpretation of the incident in his recent apology."

"CCRB needs to sort out the facts," Seth said, referring to the Civilian Complaint Review Board.
In the video, Cherry questions the driver's national origin ("How long have you been in this country?") and can be seen imitation the driver's accent and berating his language skills. But Cherry claims race and ethnicity had "nothing to do with it." I guess he wants to make it clear that he's just an asshole -- not a bigot.
Here's the video again:
More here:
Cop caught going ballistic on Uber driver apologizes on TV