7-foot-5 center is the league's first player of Indian descent.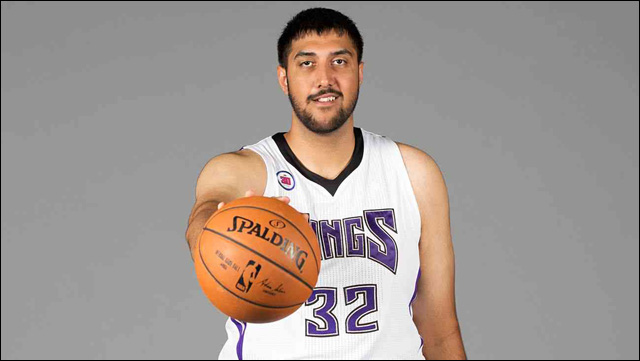 In case you missed the news last week, the NBA made it official. Sim Bhullar
signed
a 10-day contract with the Sacramento Kings on Thursday, making him the first NBA player of Indian descent. At 7-foot-5 and 360 pounds, the 22-year-old center from Toronto is also the league's biggest player.
Kings' Sim Bhullar embracing place in NBA history
Bhullar has spent the entire season with the Reno Bighorns, Sacramento's affiliate in the NBA Development League, after going to training camp with the Kings. He's been working his ass off, getting into shape, and has lost over 30 pounds. He's averaging 10.3 points, 8.8 rebounds and 3.8 blocks.
Here's a
video
following Bhullar's first three days in the NBA as he signs his first contract, goes through a personal workout in the Sacramento Kings practice facility and experiences his very first NBA gameday:
Of course, in addition to Bhullar's size, you can't deny his enormous marketing potential. It's worth noting that Sacramento Kings owner Vivek Ranadive is the NBA's first Indian-born owner. He wants to expand the NBA's presence in his home country, and Bhullar could play a key part in reaching the league's "next frontier."
Now all we need is some Simsanity to set it off.
More here:
Region's Sikhs rally behind Kings rookie Sim Bhullar