"I wish I could get everyone to take an Asian American studies course."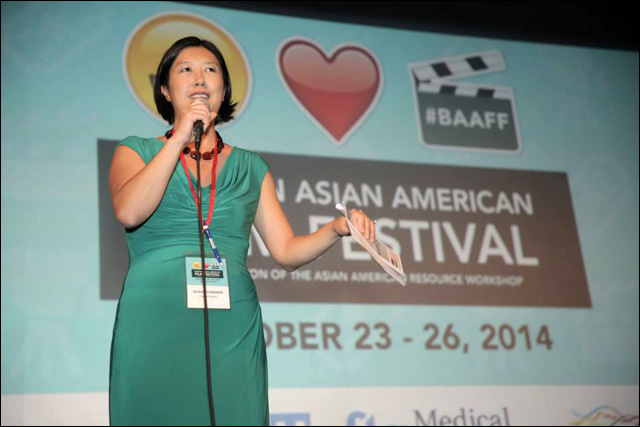 Hey, folks. It's that time again. I am pleased to present another
Angry Reader of the Week
, spotlighting you, the very special readers of this website. Over the years, I've been able to connect with a lot of cool folks, and this is a way of showing some appreciation and attention to the people who help make this blog what it is. This week's Angry Reader is Susan Chinsen.
Who are you?
I'm Susan Chinsen, Establishing Director of the annual Boston Asian American Film Festival (BAAFF) -- now in it's seventh season, Managing Director of the Chinese Historical Society of New England (CHSNE), public media optimist and mother to two young and adorable children.
What are you?
I'm fortunate (that's in spirit, not financially).
My college sweetheart is an extremely supportive spouse. In 2013, I traded in my marketing career to pursue my passion and further build up the film festival (it's really my third child). It was our fifth anniversary and we hosted Ang Lee for a 20th anniversary celebration of
The Wedding Banquet
and the 10th anniversary of legalized same-sex marriage in MA. Festival staff and I, all wondered how we were going to follow that up, and then
To Be Takei
happened and George and Brad joined us last fall! And, I am again left asking... how are we supposed to follow that up...
Where are you?
Home in Quincy, MA, the "City of Presidents,"in an area where almost 50% of the residents are Chinese. It's the birthplace of John Adams, John Quincy Adams and John Hancock, and I'm hopeful it will continue the tradition of raising more leaders to send to Washington!
Where are you from?
Thanks for asking! I actually like answering this question, especially when people want to know where I'm "really from." I'm technically an ABC -- African Born Chinese. I was born in Rhodesia, which is now Zimbabwe.
How did that happen? Around 1900, my maternal grandfather left China and was recruited in India by the Portuguese to help build the ports and railroads in Mozambique; and my paternal great-grandfather settled in Zimbabwe after being attracted by the gold mines in the Transvaal. It's here that the second character of his name became attached to his surname. My family came to Boston when I was three, to escape the war. I kept my maiden name Chinsen to honor my family history and connection to the Chinese Diaspora.
What do you do?
CHSNE is a tiny non-profit with a lot of potential, and I'm hoping to connect more people to embrace history and understand its relevancy to today and our future. And, with recent federal initiatives working to have the National Register of Historic Places reflect the history of all Americans, I'm in the midst of a project to have the first site nominated to the National Register for its associations with the history of Chinese in Boston.
For the Film Festival, I make sure it happens every year -- mark your calendar for this October 22-25! It serves as a bridge between audiences in Boston interested in diverse portrayals and stories of APIAs and the filmmakers that produce them. Boston is a hard market to build an audience in, especially if you are not from here.
I recall going to a screening of
Undoing
with Sung Kang in attendance (post-
BLT
/pre-
Fast & Furious
) and there were maybe 30 people there, and I knew then something was wrong. I also saw from my work at the Asian American Resource Workshop that films had the power of engaging wider audiences in important community issues. This motivated me to build up BAAFF, and now I need work on being a better fundraiser so I can continue this work and make it sustainable!
What are you all about?
In my re-imagined role, I'm a community connector for Asian Americans in Boston. I try to creatively solve problems (translation: make things happen with very limited resources), especially around engaging the local APA community. I try to stay abreast of what's going on, and know it's not easy to navigate the different pockets of Asian Americans in this area. Being on the east coast, there's even less of us doing community work and we are spread thin. I'm interested in making national-local connections and bridging different resources interested in reaching the same goal.
I wish I could get everyone to take an Asian American studies course -- it really opened up my understanding. I grew up in a low-income, working-class immigrant household and television shaped a lot of how I interpreted the world, impacting my self-esteem and values associated with race and class. Television and media continue to have an important role in shaping our thoughts about ourselves and the way we perceive others. I spent six and half years in working in public television and a still have hopes it will be more reflective of America, especially in increasing awareness of the experiences of Asian Americans. I hope by making more diverse stories accessible and engaging it will increase community understanding and awareness resulting in a positive change.
Friends and colleagues also know I'm a bargain hunter, and can offer advice on where to find economical deals on a range of stuff.
What makes you angry?
I'm angry when arrogant and ignorant people make decisions or create policies that have a negative impact. Immigration policies targeting Latino laborers and families -- hello, didn't we learn anything from the Chinese Exclusion laws? Climate change deniers. Underpaid educators in communities of great need. And my husband poignantly points out -- when Asians aren't represented accurately or at all in media like that upcoming movie
Aloha
starring all white people, that's just messed up.
And, please stop putting cilantro in my pho or ginger in my congee after I order it without!
I'm otherwise a very mild tempered person and extremely appreciative of all the Angry posts here. It keeps me sane knowing I'm not the only one!