The Asian American Writers' Workshop is hiring a part-time editor to take over Open City.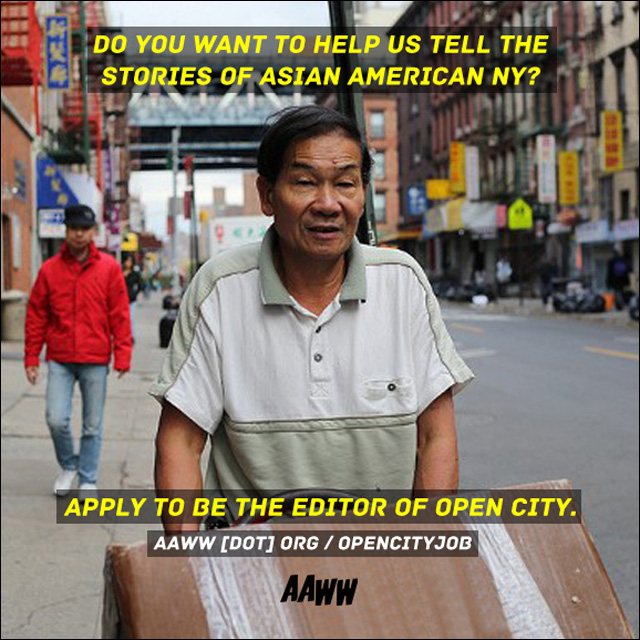 The Asian American Writers' Workshop is looking to hire a part-time editor to take over
Open City
, an online magazine that seeks to tell the stories of low-income Asian American immigrant communities in New York.
The ideal applicant is committed to the mission of the publication, excited about managing and mentoring emerging writers of color, and ready to publish excellent, deeply reported and researched nonfiction.
Over the last few years, Open City has tackled topics ranging from stop-and-frisk in Jackson Heights, Sikh temples in Queens, the underground Chinatown Yu-Gi-Oh! trading card community, the eviction of tenants on 81 Bowery, the Queens hip hop scene, the welfare-to-workfare system, domestic violence in the Afghan community, participatory budgeting in Queens, the last movie theater in Chinatown, Hurricane Sandy's effect on communities of color, and more.
Here are some more details about the
position
:
Position Opening: Open City Editor

The Asian American Writers' Workshop (AAWW) and Opencitymag.com seek a passionate, curious, experienced editor and fellowship manager to lead its publication covering the Asian immigrant neighborhoods of New York into its next phase of growth.

This online publication features in-depth reporting on the issues, people, and events overlooked by mainstream media in places like Flushing, Jackson Heights and Richmond Hill, Queens; Sunset Park, Brooklyn; and Manhattan's Chinatown. Our stories have been picked up by the New York Times, NPR, WNYC, Gothamist, Huffington Post, WAMC's 51%, and other outlets. We regularly cover arts and culture stories from these neighborhoods as well as social justice issues including housing and healthcare equality, community policing, entrepreneurial growth and underemployment in low income areas, and other key issues that affect the lives and livelihoods of immigrant and Asian New Yorkers.

The editor for this dynamic and growing publication will spend three days a week in our Chelsea offices working with a stable of paid and volunteer writers-which include AAWW fellows, interns, and freelance writers-to produce well reported, thoughtful, and clean copy for posting each week. S/he will work with our managing editor to plan and maintain an editorial calendar, produce stories in Word Press, develop and research special reporting projects and series, and manage and develop the Open City fellowship program, which brings writers of Asian descent to the streets and happenings of New York City and its rich and varied neighborhoods.


KEY RESPONSIBILITIES

- All tasks related to the editorial management of opencitymag.com: edit and publish weekly stories from fellows and freelance writers, research and develop story ideas, field pitches from writers and edit copy, guide production of photos and multimedia content, recruit volunteer photographers and other multimedia producers to contribute to publication, submit pieces to annual awards competitions, create social media around pieces and plan campaigns to bring more readers to the site

- Manage and train five writers in the Open City fellowship program. Work with emerging writers one-on-one to develop a plan of growth over the course of the year-long fellowship, meet with each writer once a month to check on progress

- Develop and maintain an educational program for Open City fellows and other emerging writers that work with our publication. Past workshops and trainings have included sessions on reporting and interviewing, photography, pitching stories, developing a neighborhood beat, using social media for journalism

- Recruit and maintain relationships with mentors for writers in the fellowship program


DESIRED EXPERIENCE, NETWORKS & WORK COMPETENCIES

- 2-3 years experience editing in a newsroom or deadline driven environment

- Proven record of ability to manage staff and writers (some working on a volunteer basis)

- Teaching or mentoring experience, preferably with emerging writers or artists

- Significant experience working with issues that affect immigrant and low income New
Yorkers either as a journalist, community organizer, or researcher

- Relevant contacts in media, community issues, journalism, and/or New York City government

- Experience with editing and producing multimedia content and developing social media campaigns, coverage

- High energy and enthusiasm for Open City's mission of covering Asian American communities across the five boroughs of New York.

- Time-management and prioritization: ability to balance editing and publishing stories on a part-time schedule.

The applications deadline has been extended to Monday, May 11. For further information about the position, and to fill out the online application, go
here
. To see the awesome work Open City is doing, go
here
.