Masaharu Ono is accused of murdering 83-year-old Hiroko Ono.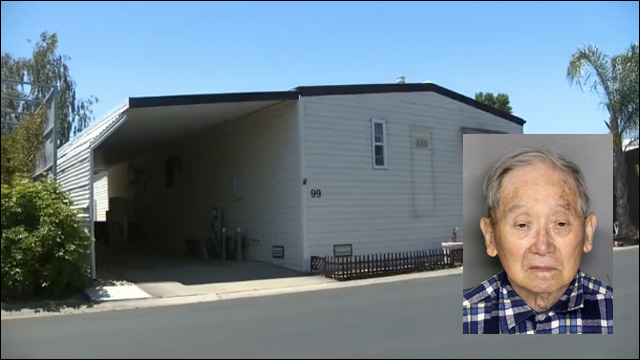 Damn. This is one of those stories I wish I hadn't heard about, because it just bums me the hell out. Last week in Sacramento, an 89-year-old man was arrested in connection with the murder of his 83-year-old wife.
89-year-old man arrested in wife's death
Masaharu Ono was jailed Friday in Sacramento County on a single count of murder after his wife Hiroko Ono was found dead in their home. While Ono claimed to authorities that he found her dead, coroner's officials determined that she had injuries that contributed to her death and were suspicious.
According to the
Sacramento Bee
, Ono used a "sharp instrument" to kill his wife.
Masaharu Ono initially struggled to process the death of his wife inside the white mobile home the couple shared, friends said. On Friday morning, he tried in vain to call 911, but his phone wasn't working, according to Steve Janssen, the mobile park manager.

Masaharu Ono went to the management office seeking help, and Janssen called 911. Firefighters and paramedics arrived, followed by the coroner. The Sacramento County Sheriff's Department was called out after coroner's officials deemed the death suspicious, according to sheriff's spokeswoman Sgt. Lisa Bowman.

"The cuts to the body were not consistent with a natural death," Bowman said, adding that the wounds were "fresh."

A neighbor in the Onos' retirement community said that the couple, who spoke limited English, were showing signs of early dementia. Ono's friends and family say he is not violent, and suggested that the case could be a misunderstanding, and that Hiroko Ono could have inflicted the wounds by herself. However, a sheriff's spokesman says there is probably cause and enough evidence to charge him with murder.
Ono is currently being held without bail and faces his first court appearance on Tuesday.
More here:
Octogenarian accused of killing wife was 'never violent,' niece says
FACEBOOK