Kentucky attorney's letter uses racist, inflammatory language regarding Asian American business owners.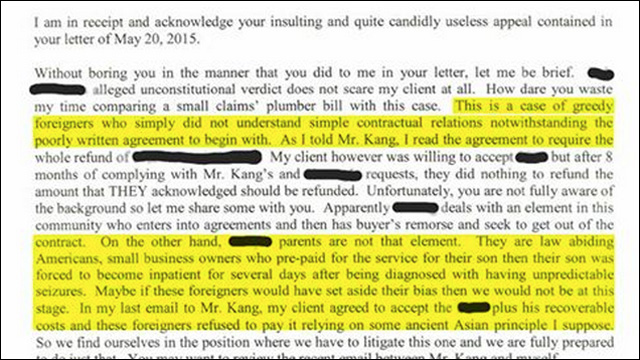 In Kentucky, an assistant county attorney is under fire for sending a letter containing racially insensitive and inflammatory language to the lawyer representing the Asian American owners of a martial arts school.
County Attorney's office reviewing prosecutor's inflammatory letter
Karl Price, a prosecutor with the Jefferson County Attorney's Office, sent a letter -- through his private practice -- to the attorney representing Hwang's Martial Arts Academy, which operations three locations in Louisville. Price's client is in the middle of litigation with the Hwangs over a dispute about martial arts lessons.
The letter repeatedly refers to the Hwangs, who are Korean American, as "foreigners" and claims they are "relying on some ancient Asian principle" by refusing to agree on a settlement figure in the case.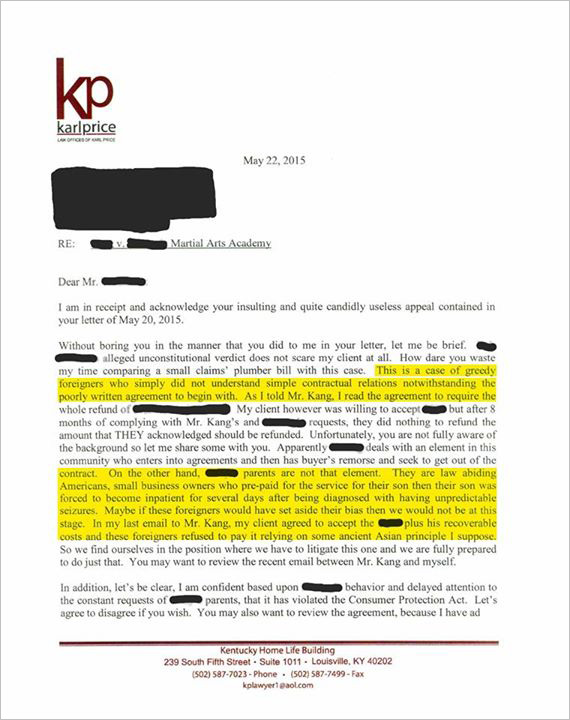 "This is a case of greedy foreigners who simply did not understand simple contractual relations notwithstanding the poorly written agreement to begin with..."

"Apparently [redacted] deals with an element in this community who enters into agreements and then has buyer's remorse and seek to get out of the contract. On the other hand, [redacted] parents are not that element. They are law abiding Americans, small business owners who pre-paid for the service for their son their son was forced to become inpatient for several days after being diagnosed with having unpredictable seizures. Maybe if these foreigners would have set aside their bias then we would not be at this stage. In my last email to Mr. Kang, my client agreed to accept the [redacted dollar amount] plus his recoverable cost and those foreigners refused to pay it relying on some ancient Asian principle I suppose."

Mimi Hwang, whose family owns Hwang Martial Arts Academy, says that she and her parents have been U.S. citizens for over ten years. Not that it should matter. Price clearly has a bias against immigrants and Asian Americans, and sees no problem bullying them with racist, xenophobic, and discriminatory language. And this guy works for the County Attorney's Office.
Price, however, believes his remarks were not offensive or derogatory at all. He says it was appropriate to assume the Hwangs were "illegal aliens" because of their "broken English."
"I do not think that that was derogatory," said Price. "I thought that that was an appropriate reference to them, because I don't know them to be American citizens. … Some of those individuals (at Hwang's) may be illegal aliens. I don't know. My clients said that the individual they dealt with had some broken English. Now that doesn't necessarily make them a foreigner, I understand that. But based on the information we had, no, I do not believe that that was insensitive to refer to them as that."

"If I've offended anyone, I apologize," said Price. "That was not my intent. I'm surprised that you send a lawyer a letter and all of a sudden it makes it to social media. But in any case, it is what it is."

What it is, is racist bullshit. This is 2015, folks.
Mimi says she wants to get the word out about Price and his letter, because he shouldn't get away with bullying Asians or any other minority group to get what they want. The Jefferson County Attorney's Office says that although the letter was sent through Price's private practice, it is looking into the matter.
FACEBOOK