Feature documentary tells the true story of twins separated at birth, reunited through the internet.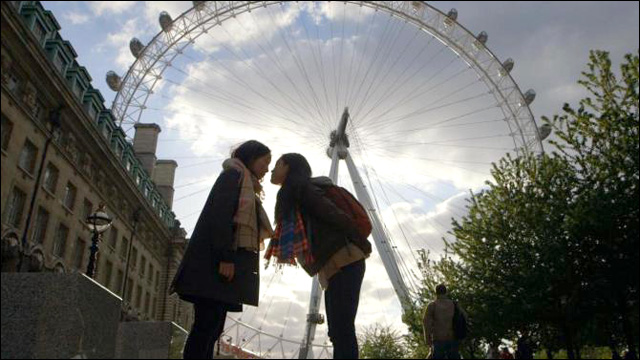 Mark your calendars. The award-winning feature documentary
Twinsters
will open in limited theatrical release on July 17 in New York City and on July 24 in Los Angeles, and then more U.S. cities on July 31.
SXSW Hit 'Twinsters' Set for July 17 Release
Twinsters
tells the extraordinary story of Samantha Futerman and Anaïs Bordier, identical twin sisters born in Korea, separated at birth, raised on two different continents, and miraculously reunited decades later through the power of the internet. It's a pretty darn incredible story, and it's all true.
In February 2013, Anaïs, a French fashion student living in London, discovered a YouTube video featuring Samantha, an actress in Los Angeles, and was struck by their uncanny resemblance. After discovering they were born on the same day in Korea and both put up for adoption, Anaïs reached out to Samantha via Facebook. Then... reunion! Joy! Tears! All caught on camera.
Here's the
trailer
again:
The film, directed by Samantha and Ryan Miyamoto, had its world premiere earlier this year at SXSW, where it won a Jury Award for editing and was a Grand Jury nominee. The film also won the award for Best Documentary at the Los Angeles Asian Pacific Film Festival in April. And now it's coming to a theater near you.

Here's where you can catch Twinsters next month:



July 17

NEW YORK

AMC Empire 24
New York, NY


July 24

LOS ANGELES

Arclight Cinemas Hollywood
Los Angeles, CA


July 31

PENNSYLVANIA

AMC Waterfront 22
West Homestead, PA

Regal Warrington Crossing Stadium
Warrington, PA

VIRGINIA

AMC Hoffman 22
Alexandria, VA

FLORIDA

AMC Regency 24
Jacksonville, FL

AMC Aventura Mall 24
Aventura, FL

Regal Shadowood 16
Boca Raton, FL

Regal Winter Park Village Stadium 20
Winter Park, FL

Regal Hollywood Stadium 20
Sarasota, FL

AMC Sunset Place 24
South Miami, FL

MARYLAND

Arclight Cinemas Bethesda
Bethesda, MD

OHIO

AMC Lennox Town Center 24
Columbus, OH

MICHIGAN

AMC Forum 30
Sterling Heights, MI

Celebration! Cinema Woodland
Grand Rapids, MI

KENTUCKY

AMC Newport Levee 20
Newport, KY

TENNESSEE

Regal Downtown West Cinema 8
Knoxville, TN

Regal Green Hills Stadium 16
Nashville, TN

NORTH CAROLINA

Regal Park Terrace Stadium 6
Charlotte, NC

MAINE

Railroad Square Cinema
Waterville, ME

CONNECTICUT

AMC Plainville 20
Plainville, CT

ILLINOIS

Regal Cantera Stadium 17
Warrenville, IL

Regal Lincolnshire Stadium 20
Lincolnshire, IL

Arclight Glenview
Glenview, IL

TEXAS

Regal Arbor Cinemas at Great Hills
Austin, TX

Regal Greenway Grand Palace Stadium 24
Houston, TX

OKLAHOMA

AMC Quail Springs 24
Oklahoma City, OK

KANSAS

AMC Town Center 20
Leawood, KS

LOUISIANA

AMC Elmwood Palace 20
Harahan, LA

NEW MEXICO

Regal High Ridge Theatre 8
Albuquerque, NM

Regal DeVargas Mall Cinema 6
Santa Fe, NM

NEVADA

Regal Village Square Stadium 18
Las Vegas, NV

CALIFORNIA

Regal Fresno Stadium 21
Fresno, CA

Arclight Pasadena
Pasadena CA

Arclight Beach Cities
El Segundo, CA

Regal Westpark 8
Irvine, CA

Century 20 Downtown
Redwood City, CA

Arclight Sherman Oaks
Sherman Oaks, CA

Arclight La Jolla
La Jolla, CA

Regal Brea Stadium 22
Brea, CA

Regal UA Marketplace 6
Long Beach, CA

WASHINGTON

Regal Meridian 16
Seattle, WA

AMC River Park Square 20
Spokane, WA


August 7

Kiggins Theatre
Vancouver, WA

Call up some friends and make some plans to go to the movies. For more information about the film, visit the official
Twinsters website
and follow updates on the
Twinsters Facebook page
.
ADVERTISEMENT