KTVU reporter Cara Liu was going live when a nearby news crew was attacked.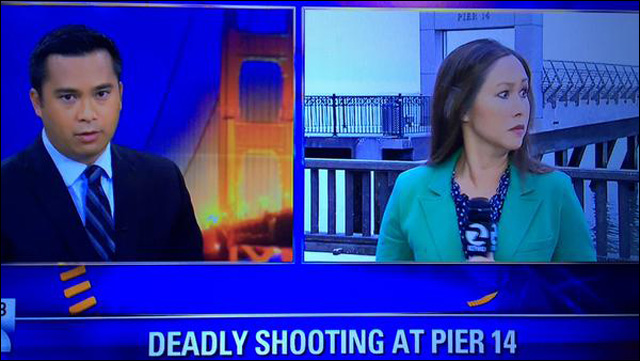 Whoa. When the news becomes the news... On Thursday morning in San Francisco, two local television news crews were attacked and robbed -- live on the air -- while reporting on a homicide at Pier 14.
News crews robbed in S.F., camera operator pistol-whipped
KTVU reporter Cara Liu was live on the air when someone ran up to a nearby news crew from KNTV, which was also reporting from the scene, and robbed them at gun point. The assailant held a gun to a camera operator's head, pistol whipped him, and ran off with a camera and tripod.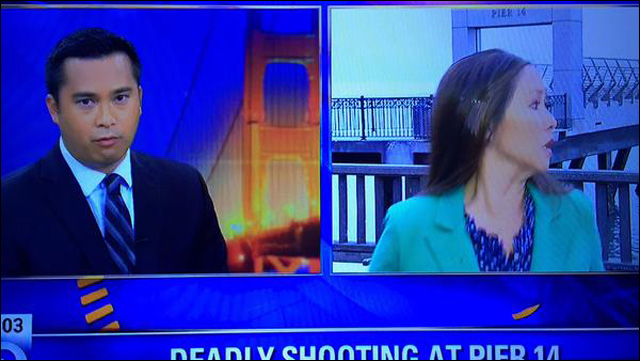 The incident, which happened off-camera, went down just as KTVU's anchor was introducing the story and going live to Liu, who interrupted her reporting to tend to the KNTV crew.
"Sorry, there's an incident out here," Liu said, leaving the shot.
The assailant came up behind Waples, who was was adjusting Sanchez's lighting, and put a gun to his head.

"Don't shoot! Don't shoot!" Sanchez yelled.

Waples said, "Take the camera!" He recalled later that he was waiting for the click of the gun.

"I thought he was going to kill Alan," Sanchez said.

The man then threw him to the ground and hit him with the gun in the ear, causing a large gash and leaving a big bruise on his upper arm.

All of this unfolded quickly as KTVU was broadcasting live, although the incident wasn't audible.

"Cara, you still there?" Flores asked.

"Sorry, there's an incident out here," she replied as she and KTVU photographer Keith Crook left to tend to the stricken KNTV crew.

"What's going on out there, Cara, doing OK?" Flores asked.

The robber also stole KTVU's camera and tripod before fleeing in a black BMW.
Thankfully, nobody was seriously hurt.
Cara Liu has seen her share of bad luck on the job. Last year, she was hit in the head by a woman while reporting about a shooting in Oakland. Be careful out there, folks. Shit will go down even live on the air!
More here:
Two San Francisco TV news crews attacked during live broadcast
FACEBOOK