"I'm a left-handed, black sheep middle child who refused to be defined by any one thing."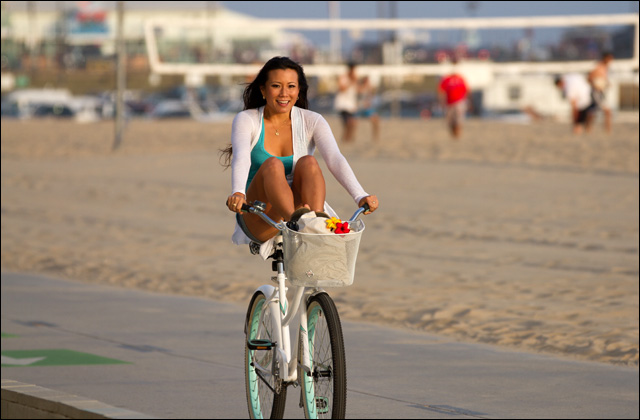 Photo Credit: Albert Frigone
Hi, folks! Here were are again. Time to meet another
Angry Reader of the Week
, spotlighting you, the very special readers of this website. Over the years, I've been able to connect with a lot of cool folks, and this is a way of showing some appreciation and attention to the people who help make this blog what it is. This week's Angry Reader is Angela Sun.
Who are you?
I'm Angela Sun. You may have seen me talking about sports on Yahoo! and ESPN, interviewing ninja warriors, speaking to students across the country about the state of our oceans, and on Netflix with my documentary
Plastic Paradise
. I'm also that blur at an airport running by to my gate to catch a flight.
I like to chase stories, sports, sunsets, sharks, and surf around the world. (not in any particular order). According to my 11-year-old nephew, I'm "waiee." He thinks it's really strange that I will go swim with sharks, yet be so scared of spiders.
What are you?
I am investigative journalist, documentary filmmaker, sportscaster, and adventure seeker.
Where are you?
LA usually. SF Bay area. Frequently in Hawaii and NYC, or on a plane.
Where are you from?
Silicon Valley! I actually grew up very close to where the angriest-of-us-all angry Asian man is from! We went to rival high schools and have mutual friends. Growing up in Silicon Valley, I was fortunate to be at the forefront of technology... literally next to Apple's headquarters. I've always blazed my own path. I'm a left-handed, black sheep middle child who refused to be defined by any one thing. Going from being one of few Asians at a private school to a pretty diverse public school I had the full spectrum of experiences growing up and I'm thankful to have learned about other cultures through my eclectic group of friends.
What do you do?
I'm the host for a new travel series called
Foreign in the U.S.A.
I explore ethnic enclaves around the U.S. in search of authentic immigrant experiences and become immersed within different cultures, all without a passport! It's a special project to me that hits close to home, as my parents emigrated from China to Taiwan to the U.S years ago and I can relate to having a multi-cultural upbringing as many of you may as well. You can watch the first episode at
www.thepta.com
!
I like to stay active and be outdoors hiking, surfing, paddle boarding, working out. I like to eat xiao long baos, bake pies, play fantasy football, and influence my friends to come travel with me.
What are you all about?
Embracing every moment fully and not taking anything for granted. Life is too short, and I've lost too many important people in my life, so I try to appreciate every moment I've had. One of my summer run jams has been that song "Rather Be" by Clean Bandit. It may sound cheesy but it helps me remember 'there's no place I rather be' when going through adversity, or something joyful -- just being, and living that emotion fully, because that moment will never come again. Always be creating, curious, and learning about myself and others, and challenging myself to do and be better. And perhaps not the best advice to my teenage niece, but I always say... "when are you ever going to ________."
What makes you angry?
A lot of things. Ignorance. Police brutality. Guns. Social injustice. Our broken public education system. The economic disparity in our country. So many things in this world anger me, but what I have been speaking on most after my documentary is the incessant use and production of single-use disposable plastic. I've gotten into many an argument with baristas while trying to order a coffee in a "for here" glass cup, or when I bring my own cup, or when I ask for something without a straw or lid. I never sought out to be the 'plastic police' or 'trash lady' but am passionate about educating people on simple things we can do to preserve our oceans, wildlife and our planet from unnecessary plastic waste. Consumer responsibility coupled with legislation, producer responsibility and education/awareness are key to sweeping change on this issue.
ADVERTISEMENT