A Very Important research project featuring hot Asian guys and poetry.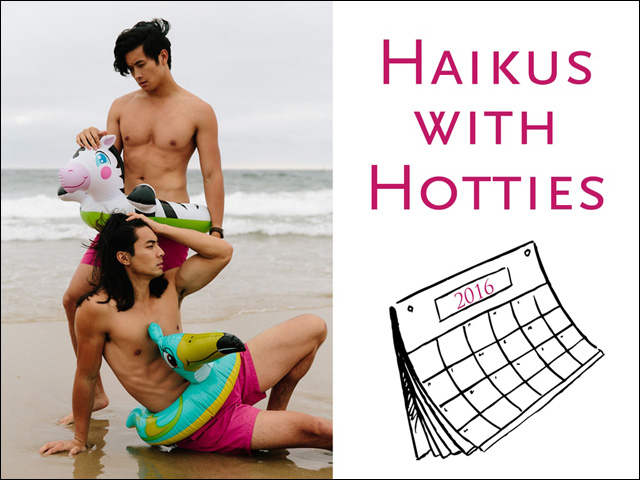 All right folks. This is a Very Important crowdfunding campaign that needs your help. The
Haikus With Hotties Calendar 2016
is a calendar project based on
Audrey Magazine's
non-award-winning poetry series "Haikus With Hotties," in which they asked hot Asian American men to exchange poetry with them.
Like I said, Very Important.
The 2016 Haikus With Hotties calendar will feature hot Asian guys and poetry. The end. As
Audrey
puts it, the calendar will make the perfect gift for friends "who need more Asian American male hotties in their lives. Nothing says 'I love you' or 'Please don't be sad all the way from Thanksgiving through Valentine's Day' better than a calendar reminder that yes, hot men are also literate." I mean, yeah.
Here's a video with Ada Tseng, Professor of Hotness, who explains the important need for this calendar:
I've known Professor Tseng for a long time, and her years of rigorous research have demonstrated that she is a leading expert in the field of Asian Male Hotness. Will you help take her research to the next level?
According to the
Kickstarter
, a thousand bucks is what it will take to convince
Audrey
and
KoreAm
publisher James Ryu that this is a good idea. He is skeptical. ("Would anyone actually buy this?") Help prove him wrong. The goal is to raise $1000 by September 13. That's totally do-able.
If you pre-order now, it's a steal at only $15. That's less than $1.50 per hottie.
Plus, you have the opportunity to help determine which hot men will make it into the calendar. Ada and her crack research team have determined their dream picks for the calendar -- it's up to you and your vote via Twitter to help fill out the remaining months. Nominees include Sung Kang, Eugene Yang, Sendhil Ramamurthy, Ki Hong Lee, George Takei, Hari Kondabolu, Steven Yeun, Ryan Higa, Harry Shum Jr. and Daniel Henney. A $50 pledge gets you the right to nominate a hottie not already in contention.
You can help make this happen! Your support will further fund Very Important research in the field of Asian Male Hotness, and will generally make this world a better place. For further information (and photos!), or to make a pledge to the Haikus With Hotties Calendar 2016, head over to
Kickstarter
.
ADVERTISEMENT