"I'm a very open, passionate person who wears my heart on my sleeve."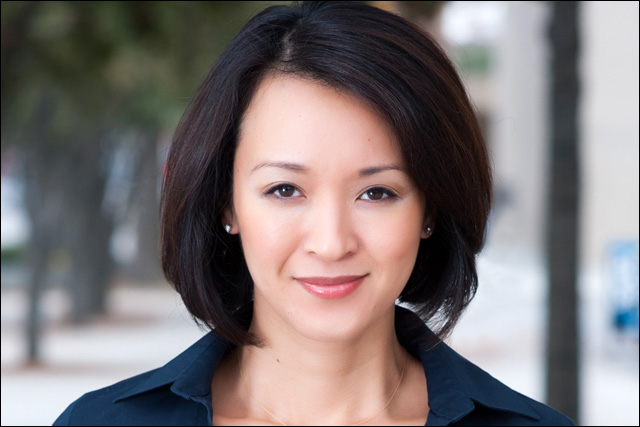 Hello, internet friends. We're doing this thing again. It's time to meet the
Angry Reader of the Week
, spotlighting you, the very special readers of this website. Over the years, I've been able to connect with a lot of cool folks, and this is a way of showing some appreciation and attention to the people who help make this blog what it is. This week's Angry Reader is Tammy Nguyen Lee.
Who are you?
Tammy Nguyen Lee
What are you?
100% Vietnamese, born in Saigon, raised in Texas. I'm TexAsian now, y'all! My husband is Korean American, which makes my children Koreanese American -- so I'm aware of and teach a lot of cultural appreciation to my children. In my heart, I'm French and would move to Paris in a split second if the opportunity came up.
Where are you?
Based in Dallas.
Where are you from?
Born in Saigon, Vietnam, left as a "Boat Person" when I was three months old, ended up in refugee camp in Hong Kong, sponsored by a church in Maryland when I was 18 months old, moved to Texas when I was five, lived in LA for a few years for grad school and moved back to the Lone Star State when my husband got a promotion back home. That early journey and struggle has very much defined my life, goals and gratitude for the opportunities we have. Now, I'm just trying to live the American Dream.
What do you do?
Coming from a first generation immigrant family, what I chose to and actually do has always been a bit tricky for my parents to understand. I graduated from Southern Methodist University's Meadows School of the Arts with a B.A. in Cinema and instead of going to law school after (as my parents wanted), I ventured out and got my M.F.A. from the elite UCLA Producers Program. I am an actor, filmmaker/producer of
Operation Babylift: The Lost Children of Vietnam
and President and Co-Founder of
ATG Against The Grain Productions
, a 501(c)(3) non-profit co-founded with my family that is committed to raising awareness for and promoting the positive representation of Asian American culture, artistry and identity. We raise money for orphanages and underprivileged children in Asia, give scholarships to talented Asian American student artists and leaders and also host some pretty amazing inspirational events like Groundbreakers Speak and Fashion for a Passion that bring the community together. In my past life, I was a TV development executive and pitched and sold projects to major cable networks. Storytelling is def my thing. If I could have another career, it might be to have my own cooking TV show, because I love to cook, eat and share that love with others. Today, my greatest and most challenging 24/7-365 job is raising my two sweet daughters, Gabriella (almost 5 years old) and Austen (3 years old). The legacy and the world that I leave behind for them is something I think about on a near daily basis. (I clearly worry and stress too much!)
What are you all about?
I'm a very open, passionate person who wears my heart on my sleeve, and I probably care too much about virtually everything. It's just not in my Aries nature to sit back and be passive. I advocate for Americans in the arts, igniting others' passions, social/civic/eco responsibility, connecting the community, empowering women, children's rights, helping the underdog, being a good mother and a good human being, having a strong spiritual connection with God and people, living a life of purpose and service with integrity, trying to change the world and leave it a better place. I have to do something, which is the inspiration behind the #beCAUSE campaign (inspiring others to think and act philanthropically in whatever ways small and large). Film, food, fun, family, philanthropy, that's definitely what drives the engine of my life.
What makes you angry?
A lot of things can get me really riled up -- racism, chauvinism, cynicism, pessimism, oppression, not fulfilling your commitments, laziness, selfishness, rude behavior, ignorance, cowardice, excuses, stealing, dishonesty, greed, people who are mean/abusive to kids/to animals/in general, bad parents, those who lack compassion and sensitivity, not doing the right thing/doing things only when you think someone's watching, when I'm hungry. Hopefully, I've tried to find more productive and poised ways of dealing with these issues, but it doesn't always happen. I'm blessed to have family, friends and support there to help me vent, cry, bounce ideas off, figure it out or just "let it go!"
ADVERTISEMENT