The poetry of "Yi-Fen Chou," aka Michael Derrick Hudson, is featured in 'The Best American Poetry 2015.'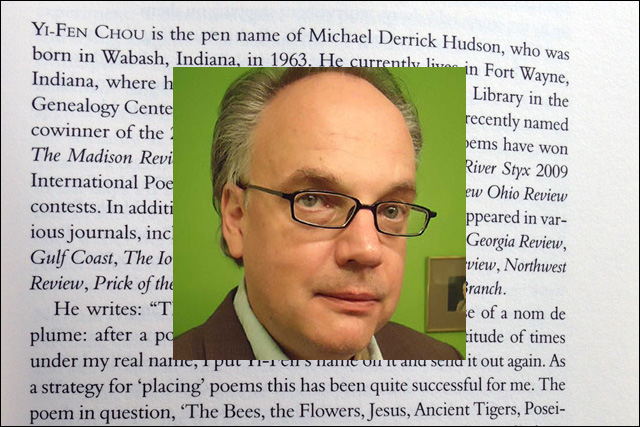 Readers of the newly published edition of
The Best American Poetry 2015
, a prestigious annual poetry anthology, have come across a very peculiar entry regarding the "nom de plume" of one its contributors. It turns out that "Yi-Fen Chou" is the pen name of a white dude named Michael Derrick Hudson. The fuck?
Folks, if there is such a thing as employing yellowface in poetry, this has to be it. Hudson claims that he regularly submits his poetry under the name "Yi-Fen" after being rejected "a multitude of times" under his real name. The strategy has apparently turned out to be "quite successful" for him.
His
explanation
:
"There is a very short answer for my use of a nom de plume: after a poem of mine has been rejected a a multitude of times under my real name, I put Yi-Fen's name on it and send it out again. As a strategy for 'placing' poems this has been quite successful for me. The poem in question, 'The Bees, the Flowers, Jesus, Ancient Tigers, Poseidon, Adam and Eve,' was rejected under my real name forty (40) times before I sent it out as Yi-Fen Chou (I keep detailed submission records). As Yi-Fen the poem was rejected nine (9) times before Prairie Schooner took it. If indeed this is one of the best American poems of 2015, it took quite a bit of effort to get it into print, but I'm nothing if not persistent.

"I realize that this isnt' a very 'artistic' explanation of using a pseudonym. Years ago I did briefly consider trying to make Yi-Fen into a 'persona' or 'heteronym' a la Fernando Pessoa, but nothing ever came of it."

With
The Best American Poetry 2015
hitting shelves this week, the discovery of Hudson's ridiculous pseudonym has sparked various WTF reactions in Asian American literary circles. This snarky artsy reaction from the
Best American Poetry Tumblr
has started to circulate: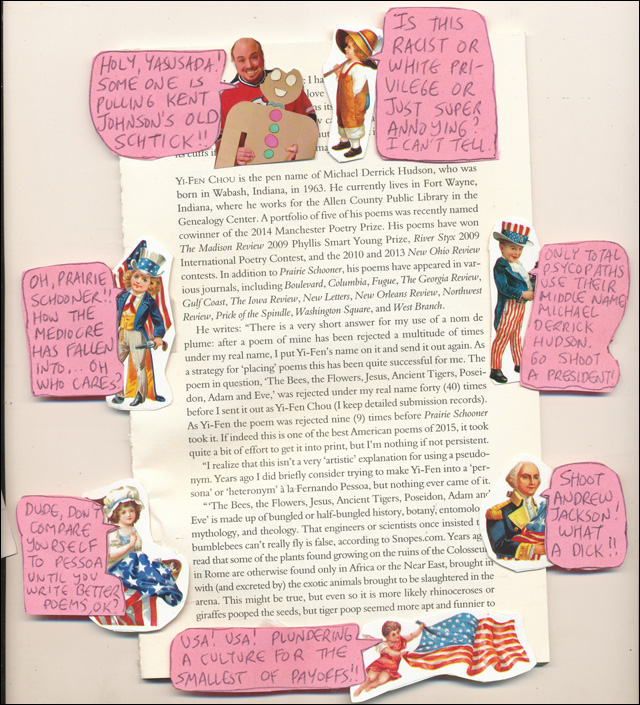 I have a feeling that this submission strategy isn't going to work much longer for Mr. Hudson. Of course, thanks to his shitty racist pen name, now we're going to have editors raising an eye at the work of every poet with an Asian-sounding name that comes their way. Get the fuck outta here with that, "Yi-Fen."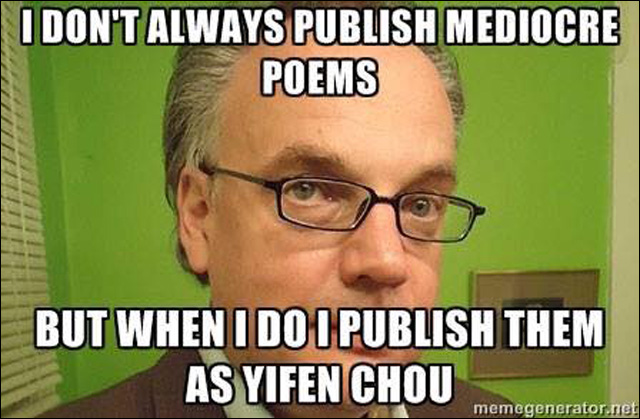 UPDATE:
Best American Poetry 2015
editor Sherman Alexie has posted
a lengthy piece
speaking out about what went into anthology's selection process. He was unaware that "Yi-Fen Chou" was a pen name for a white male poet, and explains why he kept "that poetry colonist" in the book even after he learned of his pseudonymic deception.
FACEBOOK