Inderjit Mukker was repeatedly punched in the face and called "terrorist" and "Bin Laden"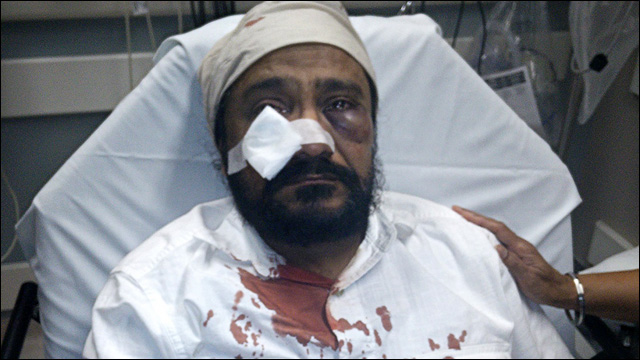 In Illinois, charges have filed against the teenager who
brutally beat a 53-year-old Sikh man
last week, calling him "terrorist" and yelling "Go back to your country, Bin Laden!" However, inexplicably, the assailant is not being charged with a hate crime. Prosecutors are calling the incident a "traffic altercation." The hell?
Charges filed against Willowbrook teen in Darien beating
The 17-year-old assailant, who was not named by the state's attorney's office, is charged with five counts of aggravated battery for the "traffic altercation," in which he punched Inderjit Mukker multiple times in the face last Tuesday evening in the Chicago suburb of Darien.
Mr. Mukker, who wears a turban and beard in observance of his Sikh faith, was on his way to the grocery store when another driver began yelling at him, calling him a "terrorist" and "Bin Laden." After repeatedly cutting off Mukker's vehicle, they pulled over to the side of the road. The other driver got out of his car and repeatedly beat Mukker in the face, knocking him unconscious.

How is this not a hate crime?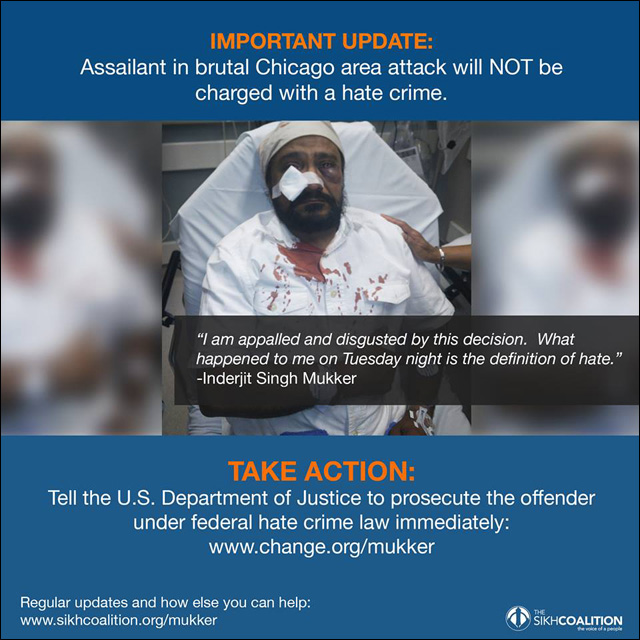 Despite clear hate crime evidence and verbal indications by the Darien Police Department that the assailant was going to be charged with a hate crime, the DuPage County State's Attorney's Office announced that no hate crime charges will be brought against the offender, who will be tried in juvenile court.

They're calling it a "road rage incident," in which mere words and punches were exchanged by two drivers on a Tuesday evening. In this terribly unhelpful statement, they urge folks to "remember that if you find yourself involved in a traffic altercation, stay calm and don't let your emotions get the better of you."

Oh, is that what this was all about? An "emotional" teenager?

The Sikh Coalition says this is complete bullshit, and points out that this decision directly contradicts Illinois hate crimes law, which states that a person commits a hate crime when by reason of actual or perceived race or religion, and regardless of the existence of any other motivating factor or factors, commits an assault, battery or an aggravated assault. How much clearer evidence do you need in this situation?

"This was not a simple case of road rage," said the Sikh Coalition's Legal Director, Harsimran Kaur. "In fact, in my many years of representing hate crime victims, the hate crimes charge is as clear and as obvious as it gets. To ignore the racial element of the crime sends a clear message that State's Attorney Robert Berlin is not interested in protecting vulnerable communities."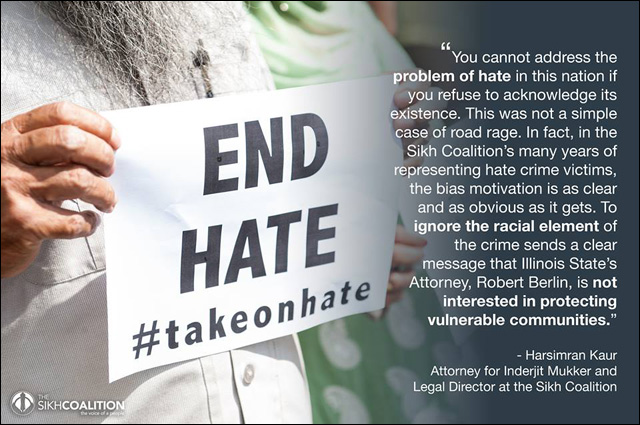 The Sikh Coalition is calling the U.S. Department of Justice's Civil Rights Division and the U.S. Attorney's Office to prosecute Mr. Mukker's assailant under federal hate crime law.

"You cannot address the problem of hate in this nation if you refuse to acknowledge its existence," said Kaur. "This announcement is shocking and a completely unacceptable decision by the DuPage County prosecutor. If Illinois is going to drop the ball, then we demand that the U.S. Department of Justice's Civil Rights Division and the U.S. Attorney's Office prosecute the offender under federal hate crime law immediately."

Mr. Mukker's family and supporters have started Change.org petition to U.S. Attorney General Loretta Lynch, urging the Justice Department to bring federal hate crime charges against Mr. Mukker's assailant immediately. Lend your support and sign it here. Because, as Mr. Mukker said from his hospital bed, "No American should be afraid to practice their faith in our country."

More here: Sikhs Demand Federal Hate Crime Prosecution After DuPage Prosecutor Fails



FACEBOOK