"When you come to the U.S. we expect you to follow our laws and speak our language."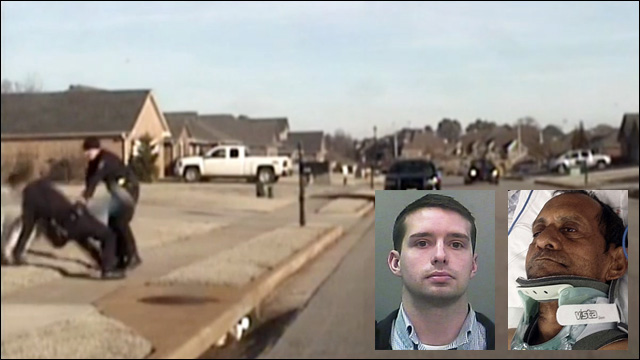 This is some bullshit. Former Alabama police officer Eric Parker, accused of using excessive force after he was caught on camera throwing an Indian grandfather to the ground. is on trial again. The first trial ended in a hung jury last month. And this time, the defense appears determined to blame the victim.
Defense blames Indian grandfather at start of new trial, 'follow our laws and speak our language'
The altercation left 57-year-old Sureshbhai Patel partially
paralyzed and hospitalized
with a fused vertebrae. His apparent crime: going for a walk. (And being brown.) Parker can be seen in police dash cam video taking down Mr. Patel with a leg sweep, slamming him into the ground.
Officers responded to a call regarding a "suspicious person" in the neighborhood. That person turned out to be Mr. Patel, who was visiting from India and staying with his son's family. Patel, who does not speak English, was on an afternoon walk when he was stopped by police. Somehow, the situation rapidly escalated from "No English," to Mr. Patel getting his face slammed into the ground.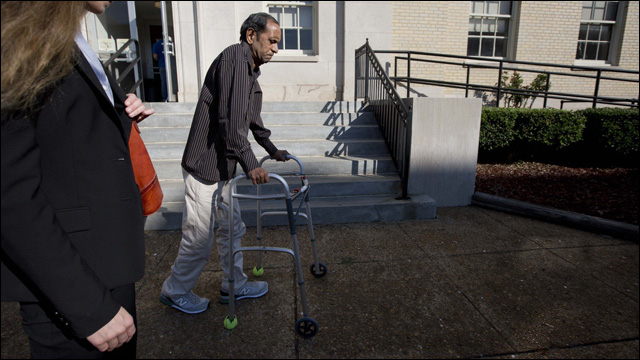 Sureshbhai Patel arriving for court.
During the re-trial's opening statements, Parker's attorney argued that Patel's injuries, while unfortunate, were largely his own fault because of his inability to "follow our laws and speak our language."
Defense attorney Robert Tuten this time told the jury that the escalation of force was largely the fault of Patel.

"When you come to the U.S. we expect you to follow our laws and speak our language," said Tuten. "Mr. Patel bears as much responsibility for this as anyone."

Patel speaks Gujarati and has testified he does not understand English. But Tuten said Patel understands the word "stop," yet he walked two steps, then seven steps and then nine more steps as police attempted to question him. Tuten said Patel reached for his pockets, which could have contained a weapon.

Ah, yes. Blame the foreigner for getting his own ass beat. Xenophobia always works. Tuten doubled down, arguing that Parker's training compelled him to view Mr. Patel as a potential cop killer:
Tuten said Patel recognized the police, but walked off anyway . "He refused to take his hands out of his pockets," said Tuten.

Tuten argued that police can't know if a person is reaching for a gun or a knife or a razor blade. He said police are trained to control the hands for officer safety.

"There are people out there in the world that will kill a police officer just because they are a cop," Tuten told the jury.

The focus on possible weapons wasn't not much different that his opening statement last month. But this time Tuten said:"If you act like a criminal you are going to be treated like one."

Prosecutors argued that Parker's use of force was unreasonable and he knew it. He changed his story over time about Patel not talking his hands out of his pockets. Parker also asked a dispatcher to look for crimes in the neighborhood to suggest he had stronger probable cause for the encounter with Patel. Bottom line: there is no justification for the force used on Mr. Patel.
The trial continues this week.
More here:
Federal trial against former Madison officer opens, defense blames Indian grandfather's lack of cooperation
FACEBOOK