October 11, 2015 - January 24, 2016 at the Japanese American National Museum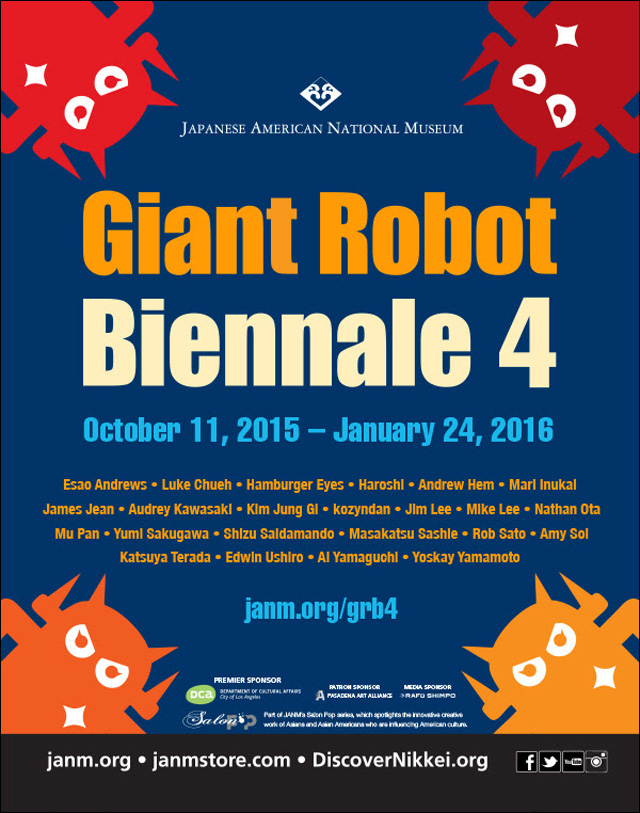 Hey, Los Angeles! The Japanese American National Museum invites you to
Giant Robot Biennale 4
, its fourth exhibition in collaboration with Giant Robot founder Eric Nakamura. This edition of the popular series will examine the evolution of the Giant Robot aesthetic from its humble origins in drawing to its many celebrated manifestations in painting, installation, muralism and photography.
Biennale 4 will kick off with a free opening celebration this Saturday, October 10, featuring live and deejay music, food, and a no-host bar. The exhibition will run through January 24, 2016.
Here's a list of the participating artists:
Giant Robot Biennale 4
Japanese American National Museum

Begins
October 10th (Big Reception)
October 11 (Regular public first full day)

Participating Artists

Esao Andrews

Luke Chueh

Hamburger Eyes

Haroshi

Andrew Hem

Mari Inukai

James Jean

Audrey Kawasaki

Kim Jung Gi

kozyndan

Jim Lee

Mike Lee

Nathan Ota

Mu Pan

Yumi Sakugawa

Shizu Saldamando

Masakatsu Sashie

Rob Sato

Amy Sol

Katsuya Terada

Edwin Ushiro

Ai Yamaguchi

Yoskay Yamamoto

This is going to be really cool. For further information about the exhibition, head over to the
JANM website
.
ADVERTISEMENT