Self-described "perv magnet" has archived over 1,000 messages from "creeps, weirdos and fetishists."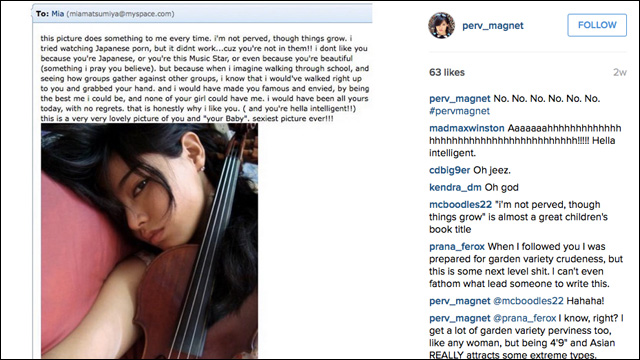 According to her
Twitter profile
, musician Mia Matsumiya is a self-described "4-foot-9-inch violinist, medical guinea pig and professional unscrewer." She is also a "perv magnet" -- and has the evidence to prove it.
Over the past ten years, Mia has received and archived
over a thousand messages
from creeps, weirdos and fetishists. And now, she's decided to share them all, via an Instagram account simply titled
"perv_magnet."
So if you're one of the guys who's sent her weird shit in the last decade... watch out.
Some of the messages are bizarre. Others are incomprehensible. Too many are just straight up disturbing. Mia's responses are hilarious. Here are some of perv_magnet's greatest hits:
Sadly, there's lots more where that came from. See more awful messages from creeps and weirdos here.



ADVERTISEMENT